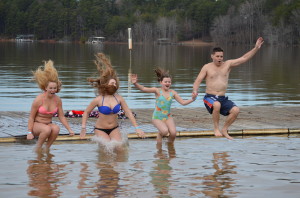 Remember the drought?  When Lake Lanier was 20 feet below full pool?  That was then.  This is now … and Lanier is now flooding with more rain on the way.  As a result, our friends with the Lanier Canoe & Kayak Club (LLKC) have postponed their 19th Annual Polar Bear Plunge previously scheduled for New Year's Day 2016.
The event has not been canceled, simply postponed.  A new date will be announced in due time.
We commend LLKC for this prudent decision to protect participants, spectators and volunteers from potential danger.
What a tremendous disappointment for those who would have jumped in the lake (for a good cause) this year!
Options for Polar Bear Plunge Participants
The Lake Lanier Canoe & Club will make every effort to accommodate previously registered Plungers.
You may participate in the rescheduled plunge.
Request a refund by sending an e-mail to: [email protected].
Can't attend the rescheduled event but would still like to get the T-shirt?  E-mail the office: [email protected].
Want to pretend you would have jumped into Lake Lanier (although it's a hideous lie) and get a T-shirt?  Yeah, send an e-mail for that too: [email protected].