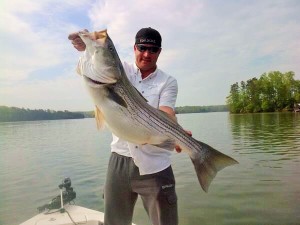 Shane Watson is a third-generation Lake Lanier fisherman.  In 1979, Shane devoted his life to perfecting the skills and techniques needed to consistently catch fresh water stripers.  Today, Shane's live bait and trolling methods are used by professional fisherman across America.
When you fish with Shane Watson Guide Service, you get the strength and experience of his entire fleet.  All seven Shane Watson Guide Service boats stay in radio and cell phone contact.  They have the latest information on what's biting on which bait all around Lake Lanier.
Hall of Fame Fishing Guide Captain Shane Watson is more than a great fisherman.  Read about his inspirational success in Shane's autobiography, Homeless to Hall of Fame.
Shane Watson Guide Service offers charters of 4-10 hours with competitive rates, with the option of extending your trip while on the water.  All trips include premium live bait, lures, rods, reels, gas, and ice.  You will need to bring a valid Georgia fishing license, food & beverage, sunscreen, sunglasses, a camera, and a cooler if you wish to take your catch home.
Click Here for Shane Watson's Website: LakeLanierStripers.com
Phone: 770-235-9829 or 770-889-5549