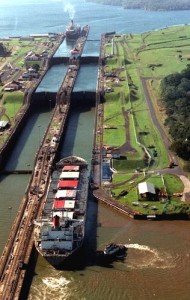 Greg Bluestein wrote a well documented and well written story for AJC.com's October 6, 2012 paper edition detailing the Army Corps of Engineers' new policy on manning the Chattahoochee River's network of locks south of Columbus, Georgia.
The locks will continue to operate and allow navigation that would not otherwise be possible, but they will only be available by appointment only.
Mr. Bluestein cleverly noted "Disruption of commerce won't be an immediate problem: The locks haven't seen a commercial vessel pass through in three years.  Columbus hasn't handled a barge since 2000."
Nevertheless, hopes of barges travelling from upstream of Columbus all the way through the Panama Canal and around the world, for example, have been sunk … in spite of an investment considered by some to be in the $100 million range.
The change in policy was made to save money.
The Gulf of Mexico is roughly 250 miles from Columbus' formerly active port.  Without the locks, the Gulf might as well be a million miles away for commercial shipping.