Details of Funeral Procession for Deputy Nicolas Dixon
It is with the greatest sadness that we share the details of the funeral procession for Deputy Nicolas Dixon, who was killed in the line of duty while serving our community on Sunday evening, July 7, 2019.
These arrangements were made public by Hall County Sheriff's Office Public Information Officer Derreck Booth on Wednesday, July 10th.
Funeral services for fallen Hall County Sheriff's Deputy Nicolas Blane Dixon will be held at 11 a.m. on Thursday, July 11, 2019, at Free Chapel Worship Center in Gainesville, located at 3001 McEver Road.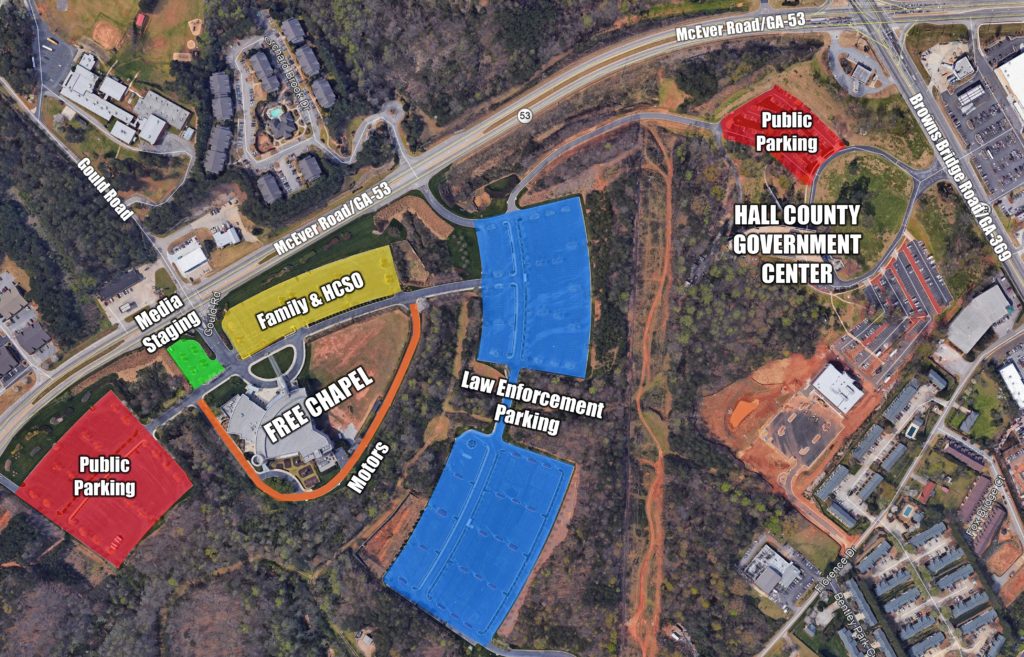 Parking at the Free Chapel will open at 9 a.m. Lots on the campus have been designated for family, law enforcement, media and the public.
Additional public parking will be available at the Hall County Government Center lot that is closest to Free Chapel.
At the conclusion of services, a procession will leave Free Chapel for interment at Memorial Park Cemetery. Law enforcement patrol vehicles with flashing blue lights will line each side of the roadway along the route.
The procession, including the funeral caisson, will pass through the center en route to the cemetery.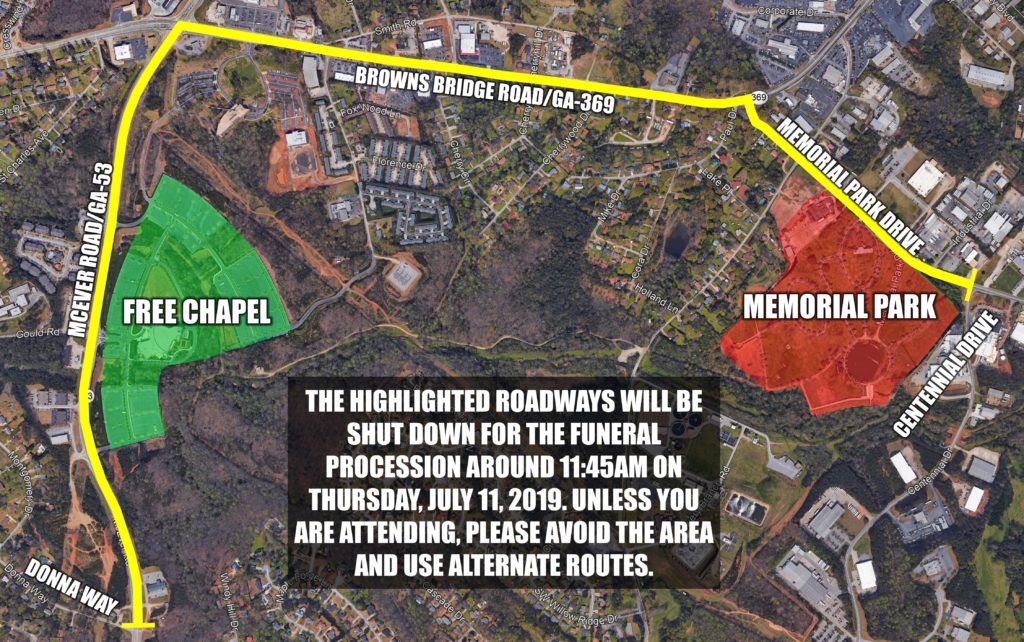 The Hall County Sheriff's Office welcomes members of the community to line the procession route to celebrate the life and contributions of Deputy Dixon.
Procession route:
Leaving Free Chapel, turns right on McEver Road/GA 53
Turns right on Browns Bridge Road/GA 369
Turns right on Memorial Park Drive
Turns right into Memorial Park Cemetery
Roadways used during the funeral procession will be completely closed from approximately 11:45 a.m. until the procession concludes.
We ask motorists to make alternate route plans. Because of space constraints at the cemetery, graveside honors will be live-streamed to Free Chapel for members of the public in attendance at the funeral.
The Gainesville Times reports this information regarding helping the family:

Hall County Sheriff's Office has opened a fund for the Dixon family at Peach State Bank and Trust. Donations can be dropped off at 325 Washington St., Gainesville, or mailed to Peach State Bank and Trust, P.O. Box 290, Gainesville, GA 30503-9835. Checks should be made payable to the Deputy Nicolas Blane Dixon Memorial Fund. A collection box is also available in the lobby for notes, cards and other gestures.


https://www.gainesvilletimes.com/news/deputy-dixons-widow-recalls-him-as-greatest-person-she-ever-met/
Please pray for Deputy Dixon's widow, Stephanie, and her two sons, ages 9 and 3-months.