Those who hike and love the outdoors often say: "Leave No Trace."  That, simply put, means if you bring something into the woods, take it out when you leave.  Our friends with the Lake Lanier Association won't freak out if you drop an apple core in the woods.  But, when they find another abandoned dock or boat in Lanier set adrift — instead of paying to have it removed — they try to identify the owners and hold them responsible for the cost of removal.
Seriously.  What is it with people who think they can drive an old boat onto a lonely beach and leave it there for others to clean up?  No, that's not as disgusting as leaving dirty diapers in public parking lots for others; nevertheless, we must band together to bust these dirty perps.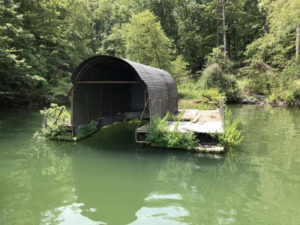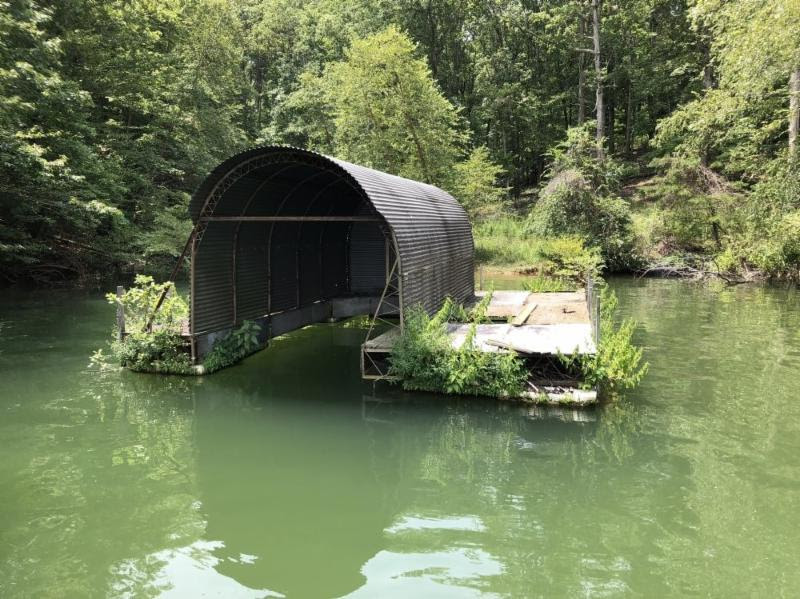 Lake Lanier Association (LLA) Executive Director Joanna Cloud let us know on August 21, 2018, that a third abandoned dock has been located on Lanier in a cove not far from Gainesville's lake marker 54.
Joanna asks us to look at the picture (on the right) of the quonset-hut style dock.  If you know where it came from, please get in touch with LLA.
No, they're not going to organize a Black Ops raid on your neighbor's house in the middle of the night.  (Although that might make an outstanding video for your social media outlets.)
Your name can be kept anonymous, so you can still wave at your neighbors when they fire up the world's most annoying leaf blower at the crack of dang dawn next Sunday.
Joanna says, "We don't know how long ago the dock was abandoned in this location, so we don't know if the vegetation has grown up prior to, or since, the dock was abandoned."
If anyone recalls seeing a dock like this that is no longer in its previously installed location, please email LLA at 

[email protected]

 with any information you may have.  We will follow up and we will keep your name confidential.  Thank you for helping keep Lake Lanier clean and safe!