The LandShark Landing Docks at Margaritaville at Lanier Islands provide the world's best reason to buy a boat and tie it up on Lake Lanier.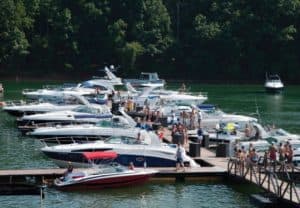 Batten down your hatches when you secure your yacht at LandShark Landing Docks.  Then, hit the beach with everyone aboard.
This is why you have a boat.
This is why Margaritaville exists.
This is how you rock summer and make your own waves.
Lanier Islands says, "Dock space can be reserved in advance with rental fees based on slip size.  In the event there are spaces available on the day of, they may be rented for a nominal fee on a first come, first served basis. In season, book in advance to secure your spot!"
Come ashore for food, libations, swimming, volleyball, more food and live music at Margaritaville.
Gas up before you head back to sea, happier than ever.
LandShark Landing Docks Info
You can dock at LandShark Landing and be right in the middle of the party.

Or, moor at Paradise Beach's docks to be closer to the Water Park, Chill Zone restaurants and the Family Fun Zone section of the Water Park, which is excellent for younger children.

Reserve your dock slip today!  All docks feature wireless internet access.  Pricing ranges from $40 to $120 per slip, per day based on slip size and reservation date. Slips can be reserved up to ten (10) days in advance online at margaritavilleatlanierislands.com.

Unreserved slips become available daily on a first come, first served basis for $15.  A reservation day is considered 9 am to 11 pm.  Overnight parking (11 pm to 8 am) is now available for an additional charge.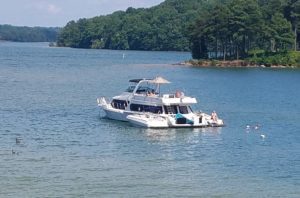 If you're one of the unfortunate few who doesn't actually own your own giant boat, take heart, me swabby.
Hang out at Margaritaville long enough and you'll meet someone who has room for you aboard one of theirs!
Better yet.  Buy yourself a nice one for you and your family and friends and strangers and me.
Think of how much fun you'll have.  Don't think about the payments.