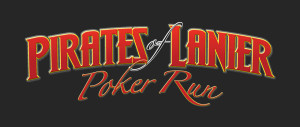 Our friends at the Lake Lanier Association (LLA) aren't pirates, but they know a few.  In fact, LLA is promoting the Pirates of Lanier Poker Run.
This is more than a mere opportunity to holler, "Aarrrghhhh!!!" at strangers, while wearing an eye patch and swashing a buckle or two.  The Pirate of Lanier Poker Run raises money for charity.  Honest.
The Lanier Partners of North Georgia — hosts and/or the people to blame for this event — invite you to join them on Friday and Saturday, July 18th & 19th to have a blast and help the kids at Camp Sunshine.
The Boys and Girls Clubs of Hall County operate Camp Sunshine to make the lives of young people diagnosed with cancer a little more enjoyable.
Lanier Partners asked the Lake Lanier Association to get the word out to their members about the event and lakelanier.com wants to help too.
This year there are five separate designated Spectator Areas where folks can watch the action without risking their lives in speedboats operated by the kindest pirates on the high and/or low seas.
Of course, if you want to participate in the Poker Run, you are welcome to do that too!  There are all kinds of different boats and floating creations that will be in this event and it is a lot of fun to be involved.
There will be a mandatory Captains Meeting on Friday, July 18th.  A good time will be had by all … unless they make you walk the plank.