Lake Lanier Recovery Divers
What's the first thing that happens when you're out on a dock on Lake Lanier?  Yup.  Something drops in the lake … and sinks.  Is it gone forever?  Maybe, but you can always call Lake Lanier Recovery Divers.  They pull all kinds of stuff out of murky waters.
According to Brian David Consaul, Lake Lanier Recovery Divers is "a loose-knit group of nine hobby divers" who are "looking for any excuse to have a dive on Lake Lanier."  They're experienced and insured and enthusiastic about helping you find your stuff.
We'd all like to believe Lake Lanier is as pretty down deep as it is up above.  We imagine clear, clean water and curious colorful fish bopping the face masks of divers.
The truth?  Not very far down, the lake is gooey, messy and dangerous.  Not to mention old trees and things that went bump in the night and never resurfaced.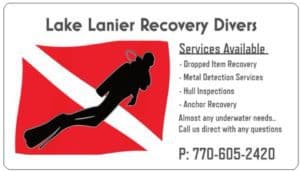 In my humble opinion, it isn't worth trying to feel around in the goop for a lost watch or car keys.
That's why I have been intrigued by a company called "Lake Lanier Recovery Divers."  I have kept an eye on their Facebook page and finally decided to do a story about them, as a public service.
For a fee, they'll slink down into the deep to try to retrieve your stuff that went "plunk" into Lanier.  Prices start at $50 and go up, depending on the conditions and what you hope they'll find.  Look on the bright side, Brian said they've even found diamond rings and small sentimental objects.
Here's part of their pitch: "LLRD divers are certified divers and will make every effort to get your diving needs taken care of anywhere on Lake Lanier."
Lake Lanier Recovery Divers Services
Recover valuable items dropped in the water (cell phones, keys, jewelry)
Damage Inspection of boat hulls, drive systems and leak detection
Removal of stuck anchors
Basic assistance for in-water projects, such as: in-water prop removal
Dock Inspections / Dock Safety checks.
Large item recovery (boats, PWC's, Dock Furnishings)
Your Rolex watch, iPhone, favorite rod & reel, or car/boat keys and snazzy sunglasses are not worth dying for; but, they might be worth diving for.
It seems reasonable to me that contacting Lake Lanier Recovery Divers — instead of risking your life diving around the bottom of Lanier — might be a good way to get your goodies back.  For a fee.