A patriotic concert is scheduled for Tuesday, July 3, 2018, under the stars on the lawn of The Arts Council Smithgall Arts Center in Downtown Gainesville.
This weather-defying performance by the Northwinds Symphonic Band is scheduled to begin at 8 PM.  Gates at the venue open around 6 PM.  Guests will have two hours to dine and wine themselves into a patriotic mood before the patriotic concert begins.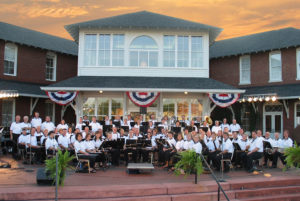 The location is easy to find.  It's kitty-corner from Gainesville's famous chicken statue (known by Google Maps as the "chicken monument") and right next to the cool old locomotive at the intersection of Jesse Jewel and West Academy Street.
This annual Patriotic Pops Concert is sponsored by The Arts Council Smithgall Arts Center.
If it rains, the festivities will move to the sanctuary of The First Baptist Church on Green Street.
According to the Arts Council
"The Northwinds Symphonic Band was organized in 1984 by Ron Evans as a performance outlet for adult musicians (primarily music educators) in the north Georgia area.
"Conducted by Mercer Crook along with Craig Cantrell, the concert features patriotic selections honoring our country and the people dedicated to preserving our freedom. The evening's performance by these talented musicians is a proud and spirited tribute to all America stands for. Bring the entire family and kick-start your fourth of July holiday at The Arts Council."
Conductor
Mercer Crook [is] a native of Northeast Georgia, graduated from Winder-Barrow High School, received his Bachelor of Music and Master of Fine Arts Degrees in Woodwind Performance from the University of Georgia, and taught at Toccoa High School for one year, before beginning a distinguished 31-year tenure at East Hall High School.
Please Note:  Do not try to read that entire sentence in one breath.  Thank you.