The simple answer to the question "What is Margaritaville at Lanier Islands?" is … it's the same as what we used to know as LanierWorld.  Except it's more … and different … and better!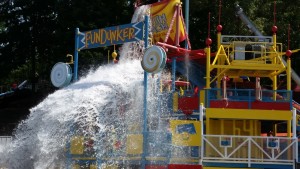 What is Margaritaville?  Well, first of all, it's what is being called "the ultimate lakeside paradise where you can escape the everyday."  That's a pretty good clue. 
This helps too: "You'll find your favorite thrills and chills at the Water Park, on our beaches, on the water or while enjoying our lakefront recreation."
Yes, it's the new vision of what used to be called LanierWorld.  When it opens, our favorite rides, the beach, the docks and all we have loved at Lanier Islands will be there and there will be much more too.  
For example,
Margaritaville at Lanier Islands will feature restaurants, tiki bars, and walk-up food and drink concessions – all re-imagined to put you in that Margaritaville state of mind.  The marina, docks, boat rentals, yacht charters and watersports are all now part of the Margaritaville at Lanier Islands experience.
The new Margaritaville Tram will safely scoot us between the campgrounds, lake front attractions and the Legacy Lodge.  That will be nice on those hot sunny summer days at the Islands.
The summer looks bright at Margaritaville!