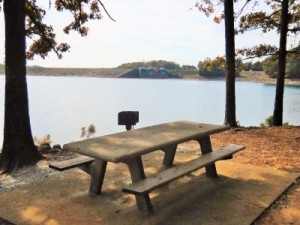 West Bank Overlook Park is Lake Lanier's most frustrating park, but at least it's open all year.
As you drive west on Buford Dam Road across the edifice that created Lake Lanier, you will love the views of the Chattahoochee River WAY down below.  You and the others in your vehicle will marvel at the beauty of our cherished reservoir on your right.
Other drivers will also be turning their heads and looking out their windows so that they won't miss any of the splendor — until someone realizes they are about to careen off the twisty, narrow roadway into the drink.
Right about then, in the middle of a tight curve, a passenger will say, "Hey!  What was that?  It looked like a little park!"
That would be West Bank Overlook Park.  That's where there's an interesting display with information about Buford Dam and Lake Lanier.  There aren't many parking places, so you might not be able to stop and read the sign.  Sorry.
If you are able to pull over, you'll be in the best place to photograph the dam and sinking boats that stray too close.
When the fun is over, simply drive out of the parking lot and merge back onto Buford Dam Road.  Sure, there are a bazillion cars so tightly packed together that you will fear that you won't see your family again.  Don't be so glum!  Traffic slows down in early November.  You could be home for Christmas!
You won't find many picnic tables, Frisbee fields, boat ramps or fire pits at West Bank Overlook Park.  Here's something you won't find anywhere else on Lake Lanier!  Drivers who will be so tired of driving in circles looking for a parking place that you can sell them your space when you leave!
If you meet people from foreign lands, such as Alabama, ask if they want to buy their very own dam!