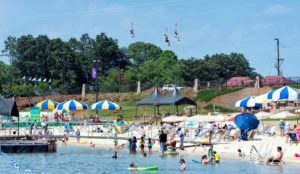 LanierWorld Opens for 2017 on May 6th!  That means summer must be right around the corner!
Lanier Islands' beach, boardwalk and waterpark entertainment district all come to life when LanierWorld opens on Lake Lanier.
Experience the half-mile stretch of white sandy beach, sample the food from the restaurants and concessions, gaze upon the wondrous five-story tall Spectacular Screen, putter around the miniature golf course, zoom down a dozen waterslides and cool off under the Fun Dunker.
LanierWorld Schedule
The floodgates of fun open wide when LanierWorld opens on Saturday, May 6th!
LanierWorld is open weekends through October 1, 2017.
May 22nd — August 6th LanierWorld will be open daily!
LanierWorld will be open from 10 AM – 9 PM on Saturday, May 6, and from 10 – 7  on Sunday.
"Lanier Islands is looking forward to an 'eventful' summer season at LanierWorld," said Bucky Perry, the resort's Director of Operations. "We're bringing back all of our fan-favorite rides and slides, and placing more of an emphasis on the overall guest experience with great open-air concerts, memorable holiday celebrations, carnival-inspired monthly Full Moon Parties and – new this year – special Community Days to honor our neighboring communities and the people who live there. We're also debuting a delicious new menu at our popular beachfront Sunset Cove Café."
The Four FUNdations of LanierWorld
Big Beach:  Guests can grab a lounge chair and soak up some rays, tackle the water top Wibit inflatable obstacle course, catch a movie on the Spectacular Screen, bounce around Bucky's Battle Ball Court, watch the little ones make a splash in the Fun Zone or test their bravery on three high thrills waterslides: Blackout, Fast Down and Double Down.
Boardwalk:  Visitors can peruse the food stands, sidle up to the Dockside Bar, dine on pizza or pasta at Gianni's Italian Bistro & Pizzeria, soar over the lake on the Thunderbolt Triple Zip, or tackle three awesome waterslides: CAT4, Twister and Typhoon.
Family Fun Park:  Home to the Islands' renowned Wildwaves Wave Pool, mom and dad can relax at the edge of the surf while the kids take to the waves. For adventurous guests, the Raging River waterslide awaits. Family Fun Park is also home to the brand new eatery – The Break, created by the founders of Rico's World Kitchen in Buford and The Brunch Apothecary in Dacula.
Sunset Cove: An attraction so FUN it has fun baked into its name, the FunDunker Playhouse offers three stories of interactive, splashtacular excitement for one and all with the challenging FunDunker Drop waterslide at center stage. The Cove is also home to the popular Sunset Cove Café, the Sunset Cove stage, Lakeside Links Miniature Golf Course, sand volleyball court and more.