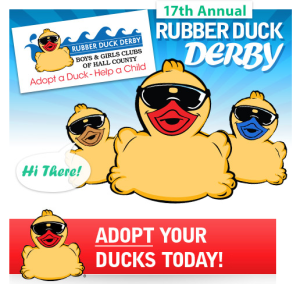 Ladies and gentlemen!  Start your quacking!  It's time for the 17th Annual Rubber Duck Derby sponsored by the Boys & Girls Clubs of Hall County.
Waddle your family over to the Lake Lanier Olympic Venue at Clarks Bridge Park in Gainesville, GA, on Saturday, May 16th, 2015 to root for your ducks!
More than 2,000 people are expected to watch 20,000 ducks race to raise money for Boys & Girls Clubs in Hall County.
The Rubber Duck Derby doesn't take all day, but there's so much to do you'll want to come early and stay late.
It's free for all and you don't have to Adopt a Duck — unless you have a conscience and you feel guilty for not putting a few bucks toward the fun and all the good that the Rubber Duck Derby does for so many.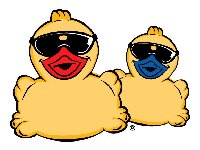 But, no pressure.  None at all.
While you're One with the Ducks, your kids can bounce to their hearts' delight on the inflatables.  It's a great day at the lake, for a good cause.
Boys & Girls Clubs of Hall County offer young people a safe and healthy place to hang out after school.  They offer lessons in ballet, piano, Kung Fu, finances and kayaking.  
Why?  To help kids stay out of trouble and graduate from high school.
Chief Professional Officer of the Hall County clubs Steve Mickens says, "We provide after school services to kids that really need it the most.  If you look at our population and demographics in our club, 87 percent of the kids are from economically disadvantaged circumstances. So what we try to do, to break that cycle, is improve the graduation rate here in Hall County."
That lofty goal takes money.
The Rubber Duck Derby is the perfect way to let folks know about the clubs and to give everybody in town a fun day at Lake Lanier … while raising needed funds.
Get quacking!  You don't want to be late for the Rubber Duck Derby.