Stripers and Spots on Lake Lanier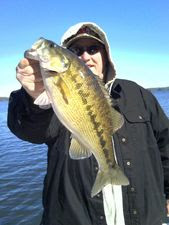 Nothing much has changed on the stripers and spots on Lake Lanier. Look for the seagulls and loons diving. Cast a leadhead fluke to rolling stripers. Freelined trout & bluebacks are also working well when the fish are up shallow running the banks and boiling on the surface. We've also done well on downlined trout, bluebacks, and spoons when the fish have been deeper. Capt. Mack's 4 arm shad body u-rigs fished 100 feet out at 3.0 mph are also working. We've been catching fish in the usual wintertime mid lake creeks. We are also catching and releasing some really nice spotted bass that are mixed in with the stripers. This report is brought to you by Shane Watson Guide Service, Hammond's Fishing Center, Carolina Skiff Boats, Minn Kota, Lowrance, Batteries Plus Bulbs, and Suzuki Marine.
Good Fishing and We Appreciate Your Business.
Contact Information
Click Here for Shane Watson's Website: LakeLanierStripers.com
Phone: 770-235-9829 or 770-889-5549