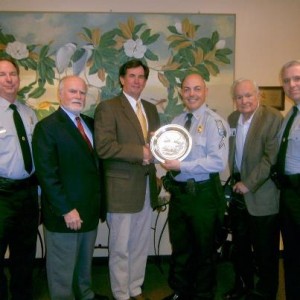 Lake Lanier is protected by rangers assigned by the Georgia Department of Natural Resources' Wildlife Resources Division.
It should be no surprise that the best lake in Georgia — Lake Lanier — is home to the 2012 State Ranger of the Year.
DNR Ranger Cpl. Jason — the 2012 State Ranger of the Year — was recognized by the Shikar-Safari Club International.
Cpl. Jason Roberson, a conservation ranger for 12 years, exemplifies the goal characteristics for a Ranger of the Year, which includes public outreach, organizational commitment, teamwork, leadership, significant achievements and more.
Some of his outstanding efforts this year include the rescue of an autistic child lost and suffering from hypothermia on Lake Lanier and the coordination of a youth squirrel hunt on Dawson Forest wildlife management area.  He has put in significant hours during night hunting cases and search and rescues.  His leadership efforts led command staff to install him as an instructor at the conservation ranger academy, which is held for new recruits.  Here he teaches new rangers how to administer sobriety tests.
In addition to Ranger of the Year, Roberson also was recognized in his region as the Boating Safety Officer of the Year, and received the John W. Jacobs Award for Excellence from the Hall County Gainesville Kiwanis.
Cpl. James Keener, a conservation ranger assigned to Pickens County, was honored as the runner-up to the Ranger of the Year award.  Cpl. Keener was presented with the 2012 James R. Darnell Award.  This award is titled "The Fawn" and is a James R. Darnell sculpture.  Cpl. Keener also recently was recognized by DNR as the "Investigative Ranger of the Year."
Wildlife Resources Division's Chief of Law Enforcement Col. Eddie Henderson praised the honorees, "Working with people such as Cpl. Jason Roberson and Cpl. James Keener is rewarding because their dedication to protecting our natural resources is evident.  I commend both honorees for their dedication and contributions toward Georgia's conservation enforcement efforts."
In the process of determining the Ranger of the Year, Wildlife Resources Division selected one nominee from each of the seven DNR Law Enforcement regions. The other nominees included RFC Richard Tanner, RFC Tony Cox, Cpl. Chris Moore, RFC Keith Page and Cpl. Jason Shipes.
Click Here for GA Wildlife's Law Enforcement Website
Click Here for the Shikar-Safari Club.org