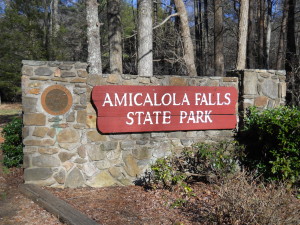 You probably figure that I get free rooms and free meals at places like the fabulous State Park lodges in North Georgia.  After all, I am world famous.
(OK, so I'm not very famous, but these links are available globally.  Lighten up.)
That's not working very well for me … and believe me, I've tried.
In the interests of totally unprejudiced journalism — and because there's still time to get a freebie or two — we bring you the news that the lodges and restaurants at Unicoi State Park and Amicalola State Park are open through the winter.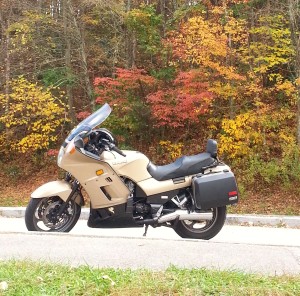 The lodge at Unicoi is one of my favorite North Georgia destinations because it's along one of my favorite motorcycle highways.  By the time I get there, I'm hungry enough for their fabulous buffet.
The food is delicious enough for any hungry guy.  Fancy-type ladies will be glad they didn't settle for boiled peanuts and food wrapped in bright yellow paper.  Meals at the lodge are served on plates so thick only Goliath could use them for Frisbees.
The lodge trusts diners with real pseudo-silverware and the napkins are so prim and proper that I wipe my mouth on my sleeve because I am too ashamed to get them dirty.
(Pfft … and I thought writing a restaurant review would be hard.  Not.)
The Lodge at Unicoi State Park, which includes 100 guestrooms and 30 cottages, will remain open throughout the winter months, prior to a renovation scheduled for late summer 2013.  The Unicoi dining room is open daily for breakfast, lunch and dinner.  There is ample parking for your motorcycle — even the goofy ones with three wheels.
Sorry, but I haven't spent the night at the lodge at Unicoi.  (Hint, hint.)  If I ever do, I'll let you know what it's like.
The lodge at Amicalola State Park and I are well acquainted.  I've spent several nights at the lodge — romantic and otherwise — and have enjoyed the Sunday buffet at their restaurant many times.  It's billed as "a stunning 57-room hideaway, overlooking the Southeast's highest and most spectacular waterfall at 729 feet," but I think you can only see the falls from your room if you rappel down about 727 feet.
As long as your car has a trustworthy transmission and brakes that you'd bet your life on, the drive up and down the mountain is scenic and pleasant.  If you're driving a clunker the drive is just as scenic, but it's WAY more scary.  (Trust me.)
The rooms at the Amicalola lodge are terrific.  Just the kind of place, for example, that a professional writer would want to go to compose, say, a review of a lodge in the mountains.
One of the rooms I stayed in years ago had a porch facing the valley below.  There's no better place to watch a thunderstorm, in my humble opinion, especially after the sumptuous (took me 10 minutes to spell that right) buffet.  No need for a designated driver, if you get too frisky with the wine at dinner.
The Lodge at Amicalola will also undergo a renovation beginning in late summer 2013.
You can book rooms online at www.gastateparks.org.
If you get there before I do tell me all about it, please.