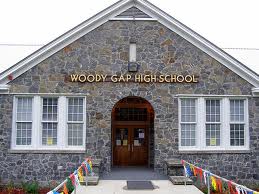 Suches is such a cool place.  Locals call it "The Valley Above the Clouds."  I call it heaven.
The weekend of October 6th & 7th is the perfect excuse to purchase a motorcycle and ride it to the Indian Summer Festival smack dab in the middle of Suches — right behind Woody Gap School on Route 60, near the intersection of Route 180.  (If you don't know where this is, ask anyone on a motorcycle for directions.)
The annual festival benefits Woody Gap School, the smallest public school in Georgia.  Fewer than 100 students are enrolled there — about the same number of kids named "Dylan" in the average high school.
The Indian Summer Festival always has lots of music, food, entertainment and exceptional vendors displaying their goodies from 9 AM — 5 PM on Saturday and Sunday.  The festival's artists and craftsmen (craftspeople?) offer amazing treasures in exchange for mere money! Talk about sacrifice!
Seriously, the stuff there is such a bargain that even I am willing to pay for it.  Christmas is less than three months away.  This is the place to get unique gifts for your loved ones.  Don't tell, but I'm going to buy Suzannah's Christmas present there.
Lake Lanier is always wonderful, but take a day off and spend a pleasant day in North Georgia's mountains.
The Indian Summer Festival is a project of the Woody Gap Sports Club, a non-profit organization.  All proceeds go to the Woody Gap School.
Adult admission is $4.00.  Students pay only $3.00, and there's no charge for children six and under (unless they climb on my motorcycle).