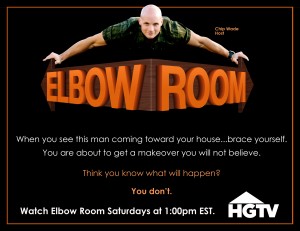 Chip Wade (which sounds like it came from a random name generator) might be coming to your home on Lake Lanier!  One thing is for sure: He is not coming to my home on Lake Lanier.
Chip is the host of the TV program, "Elbow Room."  Women think Chip (short for Chipotle?) is one hot chili pepper, as we say in journalism.
Here's the deal:
Elbow Room is seeking outgoing and dynamic homeowners in our area.  If you have have outgrown your home and are in desperate need of a renovation and makeover (for your home — marriages and hairdos don't count) this might be your big break into Show Biz!
If you love your neighborhood and you need more space, but you can't move — they want to help! Especially if your home has some inactive space we can expand into, such as:
a porch
attic
yard or
storage area!
Here's the Fine Print from HGTV:
We love pictures! Please make sure to send us pictures of: YOU and YOUR FAMILY, EXTERIOR OF HOME (front and back), and NUMEROUS PHOTOS OF THE PROBLEM ROOMS. **Please just attach the pictures, do not create a collage or presentation**
Name of home owners
Name/ages of all children
Address of property
Year house was built
How long have you lived there?
How have you outgrown your home? Please tell us in detail, tell us stories, give examples.
What do you love about your neighborhood?
What is your ideal renovation?
Do you have an area to expand in to? Or would this be an addition?
Why do you need our help?
How is your life hindered without this renovation?
How do you want the space to look/feel after the makeover?
Fully explain your situation if you want to be a winner!
Please Note: Do not send your responses to lakelanier.com.  If you send your response to us by mistake, you will be fined One (1) Entrée and Three (3) Beers at El Sombrero, in addition to extra chips, salsa and a large tip.  Thank you.