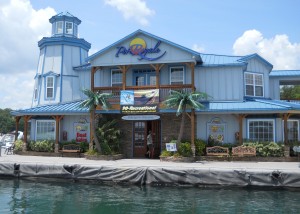 Port Royale Marina & Lakeside Community has been around ever since Lake Lanier was created.
According to their literature, Port Royale is the largest floating boating center in the country.
Formerly known as "Lan Mar Marina," Port Royale has everything you'll need to enjoy Lake Lanier … from dockside dining to getting you out on the water in style.
You can rent any type of boat you can afford — and with enough credit you can even rent giant ships for that once-in-a-lifetime cruise with all your friends and relatives and pay the bill on what the British wisely call "the never-never."
Speedboats?  Check.
Zippy personal watercraft?  Check.
Demure pontoon boats for small families?  Yup.
Houseboats so big and fancy they'd make Kim Kardashian blush?  Oh, yeah!
You can get them all at Port Royale.  Not only that, you can even buy a goofy "Captain's hat" at the ship store.  (For a big enough tip, the pretty girls will even refer to you as "Admiral" — but I wouldn't push that too hard.)
Get seasick in the shower?  Hang around and play pirate with the swabbies at Pelican Pete's on the safe and secure dock.  Good food, good music and great times await.  The party starts when you arrive.
Dock your own boat or rock one of theirs.  It's up to you.
Don't miss the lakeside fun at Port Royale on Lake Lanier.
Amenities
Bath house & showers
Boat rentals
Boat sales & brokerage
Certified technicians on site with warranty service available
Dry dock & wet dock storage
Easily accessible from GA 400 & I-985
Fresh water available on all docks
Full parts and service on all makes and models
Large gas island with 18 gas pumps — 100% ethanol-free gas is available
Onsite 24-hour security for your protection
Open 7-days-a-week year round
Pay at the pump
Pelican Pete's Restaurant
Private boat ramp
Two ship stores
State-of-the-art wash rack facility
Up to 100-amps power available on all docks
ValTek certified fuel dock
Wireless Internet service
Year-round 24-hour self service pump out
Year-round bath facilities
Year-round bath facilities with showers
Details, Details, Details
Address: 9200 Lan Mar Road, Gainesville, GA  30506
Click Here for Google Map Directions
Phone: 770-887-5715
What You See is What You Get at Port Royale