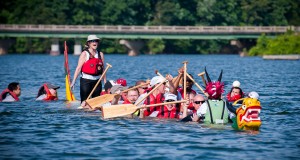 Our pal Brenda Miller tells lakelanier.com that paddlers from the Lake Lanier Canoe and Kayak Club (LCKC) are among those headed to Oklahoma City for the US National Team Trials on April 24-25, 2015.
Twenty-one paddlers who call Lanier Canoe and Kayak Club their home team will be competing for positions on the US National Junior and Senior Teams that will compete at International Events this summer.
The Lanier Canoe and Kayak Club, a legacy program of the 1996 Olympics for flatwater sprint canoe/kayak, has been home to dozens of athletes on the US National team over the past twenty years.
LCKC President Terry Baker says "we are extremely proud of all our athletes and look forward to LCKC and Gainesville, GA, being represented on the world stage in 2015 and beyond."
We commend all those involved in this worthwhile goal and we're rooting for LCKC!
Lanier Canoe and Kayak Vision Statement
To establish an environment where all participants and staff feel welcomed, respected and affirmed.
To do our part to protect Lake Lanier by participating in environmental and recycling programs.
To give back to our community by providing programs for all individuals regardless of gender, national origin, religion or ability levels.
To provide the community with a lifelong, low impact sport.
Develop and nurture our athletes through programs that reach them on an emotional, physical and mental level.