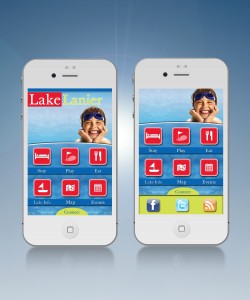 The Lake Lanier Convention and Visitors Bureau (LLCVB) "Best of Lake Lanier" mobile phone app has been released ahead of schedule.
The app puts information at your fingertips about where to stay, eat or have fun on Lake Lanier — all recommended by LLCVB.  This mobile phone program comes in Android and iPhone formats.
LLCVB is especially proud of the On the Lake function.  Boaters have instant access to places to launch, dock, get gas, and find food or entertainment — complete with GPS coordinates.
We commend LLCVB for this timely, free, innovative method of reaching the 8,000,000 people who visit our lovely Lake Lanier annually.