2012 Canadian Olympic Trial Pictures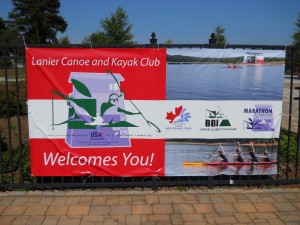 The members of the Lanier Canoe and Kayak Club (LCKC) are famous everywhere on Earth … except here at home.
Why is LCKC famous?  They've been National Champions TEN times and they're currently the 2011 USA Canoe Kayak Sprint National Champions.  Sure, they work out at one of the finest facilities anywhere, but if you have a canoe, you know it doesn't paddle itself.  They train.  They practice and they win.
Athletes come to Lake Lanier's former Olympic Venue to compete against the best on one of the world's finest courses.  That's simply the truth.
The weekend of May 4, 2012 was one example.  Seventy-five Canadian Olympic hopefuls spent a weekend vying for spots that could possibly lead to an Olympic Gold medal.
To our guests: "Merci, nos amis!  Thank you for choosing to compete on Lake Lanier.  Bonne chance!"
We are thankful to LCKC for their dedication to preserving the Olympic spirit on Lake Lanier.
Thanks again to our friends at Lanier Canoe and Kayak Club.