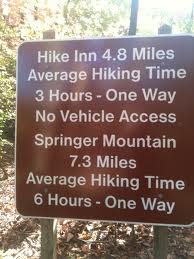 Let's begin with the bad news: The only way to get to the Len Foote Hike Inn is by walking five-miles on a moderate trail.
Now for the good news:  The only way to get to the Len Foote Hike Inn is by walking five-miles on a moderate trail.
No, you don't have to be a mountain goat to endure the trail, nor does it require a 40-pound pack or $700 hiking boots.  For most people, all you need is the will to make the trip.
They put it this way: "The easy-to-moderate trail takes between two and four hours to complete, crossing small streams, traversing mild ridges and ambling past the hickory, pine and oak trees of North Georgia."  The point is you'll survive the trek and you'll love the end of the trail.
More than 50 years ago, my family went camping.  Piseco Lake in NY's Adirondack Mountains.  Everything was swell — until we arrived and my mother asked a very fit and stalwart park ranger to direct her to the showers.  Without flinching or hesitation … without emotion or regret … he pointed to the arctic waters of Piseco Lake.  Things went downhill from there.  We've laughed about it ever since.
Maybe you'll tell your grandchildren
about the time you took a serious stroll through the woods and landed in Georgia's version of Oz: The Hike Inn.
As with most goals in life, keep your eyes on the prize and you'll be fine.
The Hike Inn is a sustainably designed Georgia State Park facility nestled in the Chattahoochee National Forest, just a few hours north of Atlanta. Its four main buildings offer 20 private guest rooms, hot showers, fresh linens and home-cooked meals.
Rustic guest rooms, hot showers, family-style dining and stunning views offer the rare gift of enjoying nature in the company of wonderfully friendly folks.
From the experienced Appalachian Trail "thru-hiker" to the family seeking a unique weekend getaway, the Hike Inn's secluded location lets you unplug and enjoy the peace, quiet and beauty of the mountains.
Stop staring at your television.  Log off Facebook.  Go tweet-free.  Take a hike … to the Len Foote Hike Inn.
Information