"Road Test" of Cobalt 242 WSS on Lake Lanier
LakeLanier.com is pleased to share this Boating World Magazine review of a boat tested on our own Lake Lanier.
"Once we left the protected cove on Lake Lanier, one of Georgia's largest lakes, and headed into open water where it was choppier than a karate tournament, the Cobalt 242 WSS was in its element. We trimmed down a little, to take advantage of the 45-degree entry and its extended running surface that ends in a 21-degree deadrise at the transom, and we bridged the waves for a level, comfortable ride.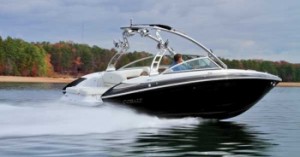 We were packing the optional 400 hp Volvo Penta 8.1L V-8, which got the 25-foot, 11-inch long (including swim platform) Cobalt on plane quickly, with little bowrise, in 3.4 seconds. We reached 30 mph in 9.3 seconds and blazed to 53.2 mph, a speed you won't see with an inboard or V-drive ski boat. Cranking it into a hard turn was a smooth and sure experience."
Click Here for the Original Story at BoatingWorld.com