Looks like the weather for the Adult Halloween Party on the Gainesville Square on Friday night, October 26, 2018, will perfect.  Sorry, it's not going to be a dark and stormy night.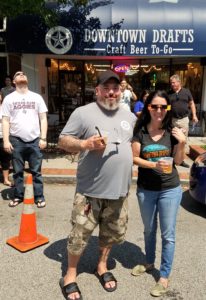 The Adult Halloween Party will be sponsored once again by our friends, Nick and Aimee Hoecker, owners and proprietors of Downtown Drafts on the Square, along with GrownUp Gainesville and Main Street Gainesville.
The fun begins — depending on which source you trust the most — at 7 o'clock in the evening on Friday, October 26, 2018.  Sure, it might begin at 8, but why take a chance on being late?
Some say the Adult Halloween Party ends at 11 PM.  My guess is it'll still be tricking and treating later than that.
"Gainesville's biggest party is back!  The 4th annual Adult Halloween is going to be the best yet, with music, dancing, costume contests, drinks, and a night of grown-up fun, all for free!"
The fun at Downtown Drafts — including playing Jenga with giant blocks of wood — will spill out all over the Square.
Main Street Gainesville will be hosting contests with prizes, party games, and partying with our DJ!  It's going to be the best Halloween you've had since you were a kid, and no one will be handing out toothbrushes or raisins!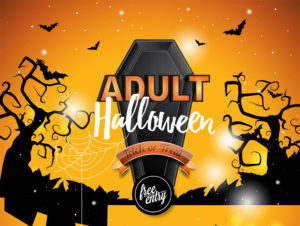 You'll be safe at the Adult Halloween Party on the Gainesville Square on Friday night from whenever until whenever.
Bring your own costume.  Due to construction, you might want to bring your own parking place too.
There's no charge for the events.  Food and drinks, of course, are at your own expense.
The fun is free for all!