Not everyone has a family as perfect as yours.  Sure, your boys make Opie look like a gangster.  Your daughters make Anne of Green Gables look like Lady Gaga.  You look forward to having all your relatives come to your house for Thanksgiving.  For the rest of us?  We're heading to Lanier Islands' Thanksgiving Feast, because we're afraid fights will break out at home.
These are different times than when we happily hopped into horse-drawn sleighs to slide our way atop fresh snow to Grandmother's House for family get-togethers.  No one wanted to miss the camaraderie.  Everyone hated going home until the next perfect reunion.
Today?  We're hoping and praying that you-know-who won't begin to rant about politics.  Even Taylor Swift is controversial.
We spend less time counting the cost of the turkey, ham, mega-spuds, dressing, veggies, desserts, rolls and decorations than we do worrying about who will be liable if a fight breaks out at the dinner table and Grandmother's precious china is smashed to smithereens.
Forget that.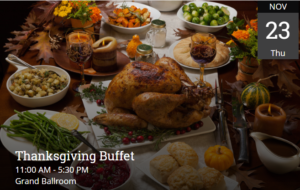 For less than the price of a visit to a Quick Care Center, you can enjoy Lanier Island's Thanksgiving Feast — with all the trimming that you can/should eat — in a neutral corner.
A gorgeous corner of Lake Lanier, too.  Everyone will be on their best behavior, in their finest duds.
No, not everyone can afford the cost of Lanier Islands' Thanksgiving Feast.  What a shame!  That means the Violent Ones who overspent on ammo might not be able to attend.  Sorry.
Have another delectable helping of something delicious to assuage your grief, until your Main Course:
Jumbo Shrimp
Oysters or
Vietnamese Crab Salad Shooters with Wakame Salad.  (Honest.)
Please Note:  You cannot have your Autumn Caprese Salad, with Heritage Variety Tomatoes, Arugula and Marinated Buffalo Mozzarella (honest) scattered and smothered.  Sorry.
Click Here for the Thanksgiving Feast Menu
Wouldn't you rather spend time with loved ones in the Grand Ballroom at Lanier Islands on Thanksgiving Day, Thursday, November 23, 2018?
Can you imagine how much better your Slow Roasted Angus Prime Rib will taste if you have no fear that a food fight will erupt if any of a hundred recent news stories are raised for conversation?
You can always pretend that everything will be just ducky next year.  You can look forward to peeling shrimp and potatoes for days.  You can delight yourself in the mind-boggling timing it takes to pop a ham, turkey and perfect mashed potatoes — with even more perfect gravy — on the table while they're all perfect hot and steamy!
Yes, next year you can invite all your relatives over to stare at their phones at the table with you, before they vanish — like leopards after they finish their prey — to watch football on TV until midnight.  At least that will give someone time to clean up after everyone.
Save that joy for next year.  This year, treat yourself and those you love to Lanier Island's Thanksgiving Feast.  Then, leave the dishes for someone else to clean, before the ladies take a shuttle to the Lanier Islands Spa and others head for the beer and football at home.