What?  You've never heard of a "landshark"?  Well, you'll just have to visit LandShark Landing at Margaritaville on Lake Lanier for the best explanation ever.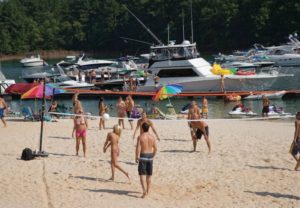 Come be a landshark on Lake Lanier at Margaritaville at Lanier Islands.  All it takes is a willingness to have fun on the shores of Georgia's greatest lake.
LandShark Landing is the lake's new adult playground at the far end of Lanier Islands' Paradise Beach and the Family Fun Park.
Stop by for pickup volleyball tournaments, trivia night or ladies night.
Here's how landsharks roll at Margaritaville's LandShark Landing Beach:
The beach scene is always jamming with a variety of fun activities, from chilling out in your chair with a frozen concoction to catching some rays, picking up a game of volleyball with new friends, to enjoying the sunset on the beach.
Play or just watch the action while listening to live music, and enjoying fresh food and cool drinks.  Cometh by land or cometh by sea and dock right by the action.
LandShark Bar & Grill
With boats, burgers and sunshine, who could ask for more when you are chilling on the lake?
Okay.  Maybe your boss would like a little more.  So, check your email … then have more fun at Margaritaville!