I was invited to dine at marc at Chateau Elan Winery and Resort in Braselton, Georgia, the newest and finest restaurant in the vicinity of Lake Lanier.  One word says it all: "Sensational!"
In late August 2017, I arrived rather unannounced and feasted on a meal that was, in all sincerity, one of the finest I have ever had … anywhere.
Here's my perspective on what you can expect when you visit marc for a fantastic lunch or dinner.
The best way to find marc is to stay at one of the onsite accommodations offered by Chateau Elan.
marc is a pleasant stroll from anywhere on the grounds: the spa, Inn, Villas or winery.
Presuming you will drive to Chateau Elan, the directions are simple: take Interstate 85 to Exit 126.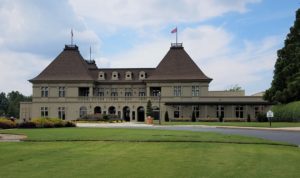 Look out your window.  Drive toward the resort and winery — pretty much the only spectacular French castle within sight.
Motor up the exquisite driveway and marvel at the setting and the scenery.  Pause and gaze at this unique spectacle for a moment.  It's worth your time.
Should you have friends with you who would be less-than-delighted to walk the length of a football field from the parking lot to the door, drop them off at the circular drive in front of the estate.  In this case, it is more than a courtesy.
To park your car, go back down the driveway and take the first left-hand turn.  Ignore the signs that say "Winery Visitors Only."  Pull in and park there.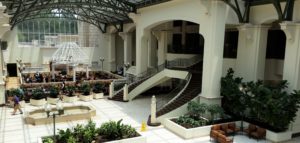 If the lot is full, there is another one down behind the castle on the right side, at Paddy's restaurant.
Before you walk through the front door, turn around and absorb the sight of the vineyards and fountain.
Try not to walk through the regal doors alone.  That's because you're probably expecting a grand foyer or a rotunda — such as at the Biltmore House.  (Chateau Elan has such a masterpiece, behind a different door.)
I hate to say this, but the next 90-seconds of your visit might not meet your expectations.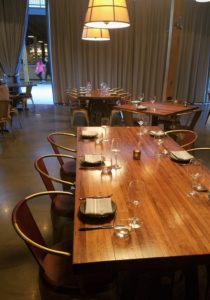 After you go in, you will see a large open room on your right where wine tastings are offered and T-shirts are for sale.  On your left … are giant curtains with tables on the far side.
Unfortunately, when I visited, there was nothing that indicated the presence of marc.  No visual clue to welcome guests, as you will commonly find elsewhere at Chateau Elan.  Not even a blinking Sam's Club "Open" sign.
That single oversight betrays the warmth behind the curtains — where you will find marc.  It's a bit unusual; especially if you, unlike me, frequently tour fancy castles with exotic entryways.
My guess is marc will install a sign by the time you arrive.
Enter the dining room at the left side of the curtains.  You will be comforted by the warm welcome of a cheerful hostess who will promptly seat you — if you have reservations.  On a slow night, you might be fortunate enough to get a table without calling ahead.  Don't chance it.
Now, your adventure begins!
At marc, you are not merely assigned a waiter.  You are greeted by a professional who is your guide to dinner.  Nothing pretentious or snooty.  Just a man or woman who really knows the deal and who can help you choose what you want most — as compared to deciding for you.
I scored Brad Boenke as my pleasant server.  After six years at Chateau Elan, he should wear a cape to indicate his amazing super powers.  He is the best; therefore, he belongs at marc at Chateau Elan.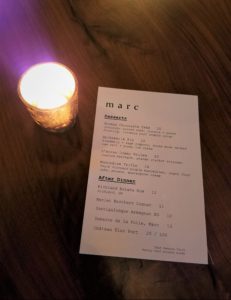 You'll be served bread and butter.  That's when you'll realize you're "not in Kansas any more" or Georgia, for that matter.
If you are dining with a picky eater, find a subtle way to alert your guide.  You might decide to conspire not to tell [you-know-who] that the unusually tasty butter, for example, is a custom creation from Winery Chef Cameron Udick.  His secret sauce?  Seaweed and sea salt.  Honest.
I am not a picky eater; except, of course, when it comes to green wiggly food at church suppers or tofu anywhere.  Would I have preferred not to know that I was going to eat seaweed  butter?  Maybe.  Either way, it was fantastic.
The next time I find myself at the shore, I might bring a stick of butter and see if I can make my own!  How hard could it be?
You might be appalled, but I am not a drinker and didn't have any of the many award-winning wines bottled or sold at Chateau Elan.  Brad graciously allowed me to have water, although his eyes said, "I respect your preference … but the meal is even better with a glass of …."
I must say this.  We all have friends who do not and should not drink, for one reason or another.  I personally felt no pressure or judgement when I declined the wine.  That's a big deal.  I commend Brad and the management of marc for that.
For my appetizer, I chose a sample of the Short Rib Arancini.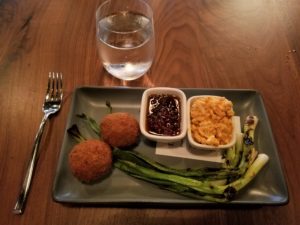 Risotto, braised short rib, an amazing jelly and a pimento cheese spread (that makes what they serve at the Masters taste like Velveeta on stale Ritz crackers) rolled in a ball.
While munching on the short rib treats, I began to look around.  marc had been open for about 100 days.  The floor is a polished concrete.  The word "industrial" is used to describe the setting.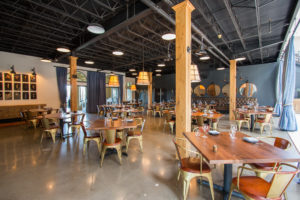 They have old sliding farm doors on one end, with old wooden farm implements on the wall at the far side of the room.  The chairs and tables were comfortable.  Industrial would describe them well.
The lamps looked like giant lampshades oddly dangling below an exposed metal framework ceiling.
One wall had a 20-foot-long leather seat beneath a half-dozen oval mirrors, illuminated by what appeared to be imitation street lamps.
I'm sorry.  I didn't get the convoluted decor.  I kept thinking the furnishings didn't know what they wanted to be when they grew up.  Who knows?  You might want to rush home after dinner and gut your home to make it identical to marc.
We have all had festivities in gorgeous surroundings.  Personally, I recall New Year's Eve on San Francisco Bay; spinning over Niagara Falls at their needle thingy; a paddle-wheel replica in San Diego Bay; on the Ryman Auditorium stage; and, a buffet aboard John Wayne's yacht (a converted Canadian Navy wooden minesweeper) watching the Super Bowl with friends, cruising near shore.
At marc at Chateau Elan, it's about the food, in my opinion, not the ambiance — or the lack thereof.  Your memories of marc's finest dining will suffice.
Then … Brad graciously arrived with my salad:  Broken Caesar …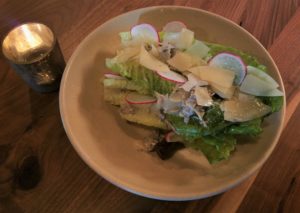 Shaved Parmesan cheese, a huge pumpernickel crouton, anchovies, with a white anchovy vinaigrette dressing.  Yes, the Broken Caesar salad is available for two.  Chef Cameron Udick's anchovy dressing is so good you will want to lick your plate.  In public.  On a first date.  Try to control yourself … but follow the crowd.
Brad introduced me to several members of the staff, the Winery Chef Cameron Udick, Winery Food and Beverage Director Peter Evers and Pastry Chef Arnasha Hudda.
Each and every person I met had the same passion, love, respect and purpose in their particular positions.  They described their love for their jobs as I would tell of my beloved grandchildren.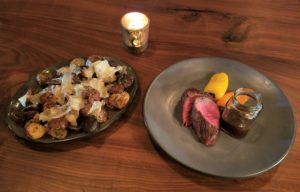 By then, Brad brought me my main course: the Brasstown (North Carolina) Beef Bistro Filet — with the red wine demi-glace sauce, heartily recommended by Brad.
As a side, I chose the Garlic & Parmesan cheese Fingerling Potatoes.
Man's highest achievement in meat and potatoes!
Every taste was incredible.  Seriously.  I have never had a better meal.  Anywhere.  Not even anywhere I was taken on a week-long writers tour of other fine dining establishments in Georgia.
Don't let dining solo keep you from experiencing marc at Chateau Elan.
Everyone — from my first chat with the sparkling hostess to Brad himself — suggested the same choice for dessert: Buttermilk Pie.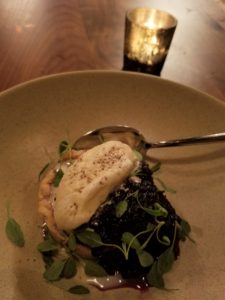 Based on Chef Udick's grandmother's precious memory and recipe.  Blueberry and sage compote; house-made smoked sea salt; and, honey ice cream, upon the most flaky and delicate crust imaginable.
marc is dedicated to its farm/winery roots.  Their commitment is more than "farm to table."  They want you to remember that you are dining at an authentic, working vineyard and winery.  Perhaps that explains the decor.
I regret not staying for coffee.  You might opt for "marc" after your meal.
Märc/ noun: A French fiery spirit from the heart of the grape.  Just like farmers and cellar hands paid homage to the essence of the grape, marc is committed to honoring the essence of our hand-curated, locally sourced ingredients.
Play a round of golf or spend time in the luxurious spa before lunch or dinner at marc.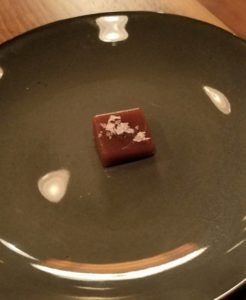 I believe everyone at Chateau Elan will give your their best … personally and professionally.
Here's another example from marc.
Their finishing dinner course looks like a simple piece of caramel.  As with everything else, it is anything but simple.
This delicacy — infused with duck fat and sprinkled with sea salt — will melt in your mouth.
From the inventive butter to your final goodbye, you will never forget your finest dining experience at marc.
The next time someone says to you, "Let's go out to dinner.  Someplace really special!"