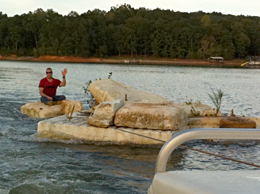 Our friends at the Lake Lanier Association (LLA) do so much all year long to keep Lake Lanier Clean, Full and Safe for the millions of visitors who come here to take a dip in one of America's greatest lakes.
There's news on what's happening with the restoration of Flat Creek and more regarding the purity of Lake Lanier's water, and more, in their latest newsletter.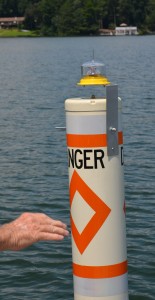 The Shore Sweep was tremendously beneficial to the health of Lake Lanier and to those who live on or play on the lake.  You'll see details if you open the LLA newsletter using the link below.  Fifty tons of garbage were removed by volunteers, led by LLA's Executive Vice President Joanna Cloud.
There's an update on the solar-powered navigation markers placed at particularly helpful spots on Lake Lanier.  Here's an excerpt:
The solar lights placed on hazard markers has been in full swing with 120 lights presently operational (100 installed in 2014) on the south end of the Lake. A survey of Lanier stakeholders conducted in August was one hundred percent favorable. The positive comments were accompanied by some requests to begin the installation process north of browns bridge as soon as possible. Plans for the northern part of Lanier are being developed now, with installations beginning early in 2015.
All who enjoy Lake Lanier owe a debt of gratitude to the Lake Lanier Association.  We encourage you to read their newsletter and consider becoming a member of this fine non-profit group.