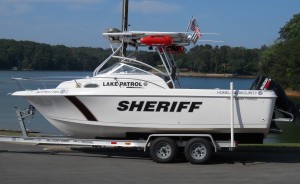 First of all, we extend our condolences to the families and friends of those who lost loved ones in the tragic events led to three drownings in Lake Lanier on Sunday, June 8, 2014.
We are grateful for all those who helped in the rescue operations.
We are especially thankful for the authoritative information provided to lakelanier.com by Hall County Fire Services Planning & Preparedness Chief Fire Marshal and Deputy EMA Director Scott Cagle, and by Department of Natural Resources Law Enforcement Division Public Affairs Officer Mark McKinnon.
On Sunday, June 8, 2014, rescue personnel responded to three separate drowning calls: two on Lake Lanier and one in the Chattahoochee River.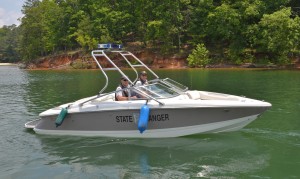 Incident #1 near Three  Sisters Island
According to Hall County Fire Services' Scott Cagle:
A call was received at 2:01 PM on Sunday, June 8, 2014.  The incident was first believed to have taken place in Hall County, but actually occurred in Forsyth County.  Hall County Fire Services responded to the scene, along with DNR Rangers.
They were able to retrieve two males from the water.  Both were transported, unconscious and unresponsive, to the medical center in Gainesville.
Reports indicated that one male juvenile went into the water after a ball and became distressed.  Then, an adult male subject went in after the juvenile and he also became distressed.  Both went under and did not resurface.
Rangers used side-scan radar to locate the bodies.  They were both retrieved from Lake Lanier by the Hall County Fire Services Marine Rescue Team in about 45 minutes.
DNR Officer Mark McKinnon identified the victims as a father and son from Lilburn, Georgia.  The father's name is Leonel Torres.  He would have turned 51 on June 23, 2014.  His son was 15-year-old Elton Torres.
Again, we express our condolences to the family and friends of the Torres men.
Incident #2 at Old Federal Park
According to Hall County Fire's Scott Cagle, at 6:22 PM on Sunday, June 8, 2014, a call was received by Hall County emergency personnel about a swimmer that was distressed and went down.
As with the previous incident, Hall County Fire Services – Marine Rescue responded and placed divers in the water in the last known area of the young adult.
Reports stated that four men in their twenties were walking on a sandbar from shore to a small island out in the middle of the water.
One of the males stepped off the channel/sand bar and went under.   A brother jumped in after him but was unsuccessful in his attempts to help.
According to the DNR's Mark McKinnon, DNR Rangers again used sonar to locate the subject.  Hall County divers retrieved the young man after he had been underwater for approximately one hour.  The man's vital signs showed no activity on the heart monitor; therefore, no resuscitation efforts were started.
The victim was identified as 20-year-old Beto Silva, of Peoria, Illinois.  Mr. Silva's brother said Beto Silva lived in Gainesville part of the year, but Peoria was his permanent address.
We are thankful for the teamwork of Hall County, Forsyth County and DNR personnel, and all those involved, in responding to these drownings in Lake Lanier.
Please be careful in and around the water.