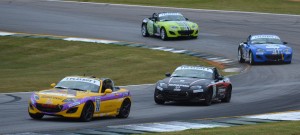 Yes, Bubba, it's true.
There's a kind of racing where the drivers turn left and right!  And it's coming to Road Atlanta, just south of Gainesville, GA.
You and I might have to face the shame of driving Ford Fiestas with three doors painted different colors, but we can watch some of the world's fastest cars right here at home — and there's no extra charge for pretending we're driving.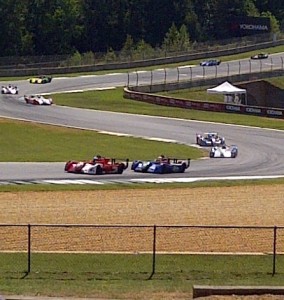 Mazda MX-5s were zipping around Road Atlanta on Tuesday afternoon the 15th.  They're fun to watch, but the vee-hickles that'll be racing on Saturday are stunning.
Comparing souped-up little sports cars in the "support series" to the most technically sophisticated P1 cars (200+ miles per hour) or the P2 ("a more economical version of their P1 big brothers") is like comparing your grandmother's bicycle to Luke Skywalker's speeder.
(No offense intended to your grandmother, Luke Skywalker or the teams that pour their hearts into racing MX-5s.)
Prior to the 1,000 miles or 10 hour Petit Le Mans that begins at 11:30 AM on Saturday the 19th, you're invited to the thrilling, simultaneous practice for all five classes of racers — in the dark — from 7 until 9 PM on Thursday night.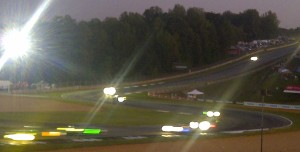 Did we mention that the track has no lighting?
Test and practice sessions are scheduled for all day Wednesday the 16th, with qualifying and some actual races on Thursday.  Friday is filled with qualifying and (ready?) NASCAR K&N Pro Series racing.
Road Atlanta has a spiffy new website that will fill your tanks with premium information.
"Connecting with our fans is a priority at Road Atlanta," stated President & General Manager Geoff Lee. "By upgrading our website and making it more visually appealing and interactive, we are better able to communicate with our exceptional fans and keep them informed."
Roadatlanta.com has many new features designed to engage fans on a year-round basis, providing news about teams, drivers, sponsors and other events of interest to motorsports enthusiasts.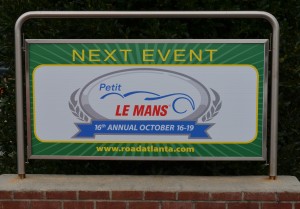 Afraid you can't afford to take the kids to the Petit Le Mans?  Sure you can!
Get yourself a ticket and your children 12 and under get in for free!  That's a deal, Bubba.
See you at the races!