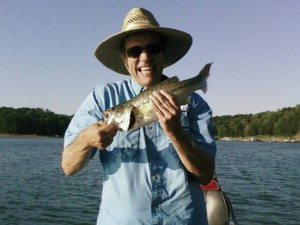 This is not a paid advertisement.  It's simply a great idea, in my humble opinion.
A few years ago, I had no idea what to get my best friend for his birthday.  He didn't need or want anything and if he found something he liked he didn't need me to buy it for him.
Not to name any names, but Don Poole had this gargantuan delusion that he was a great fisherman.
He wasn't the worst, probably.  After all, I was there when a small duck hit his bait.  Don slowly reeled him in.  Quietly leaned over the side of the boat and picked up the little critter — who was far more surprised than scared.  Don mercifully removed the hook, put the quacker back into Lake Lanier, said goodbye, and off he went.  The duck, not Don.  [Insert Donald Duck jokes here.]
When I figured out what to get him, the answer hit me like lightning (one bright flash followed by total darkness).  Hire a fishing guide and pretend it's a gift for Don!
We had a blast, as old people say.
Did Don catch any fish?  Nope.  Did I?  Oh, yeah.  And I got the credit for giving Don a present.  How cool is that?
Know somebody who has everything and doesn't need anything?  Take him (or her) fishing.  You might get the biggest fish too.
We hope you'll choose our friend Shane Watson.  Lake Lanier fishing is Shane's heritage.  His family has lived a few miles from Lake Lanier for over 100 years.  He is a third generation Lake Lanier fisherman who has fished Lanier for over 35 years.  Shane's grandpa, dad and his uncles all fished Lake Lanier from the late 50s through the 80s.
They were there for the Buford Dam groundbreaking ceremony in 1950.  They watched the flood gates close in 1956 and saw the lake full for the first time in 1959.
Today, Shane knows where the fish are and how to catch them.
Take somebody fishing with Shane Watson.  But don't let the fish bite back.
Click Here for Shane Watson's website.