Lake Lanier Sailing Club's Reggae Regatta ~ June 19-21, 2015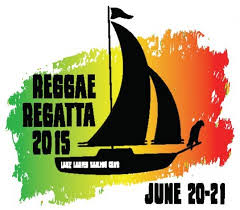 The Lake Lanier Sailing Club (LLSC) will host what they are calling "The biggest regatta on Lake Lanier in all its glory!" — The Reggae Regatta — the weekend of June 19, 2015.
Don't know the difference between a mizzen gaff, a lugsail and a jib-headed spanker? Pffft.  Not to worry, Bucko.
Hint: A lugsail is quadrilateral sail that lacks a boom, has the foot larger than the head, and is bent to a yard hanging obliquely on the mast.  (As if you didn't know, right?)
Don't have a yacht that's too big to fit under low bridges?  Pffft.  Not to worry, matey!  You can enter your "one-design dinghies" too.
What kinds of sailboats are eligible for the Reggae Regatta?
PHRF
Cruising Fleet
One Design
Multi-hull
Sailboards
Portsmouth
including Jr. Opti, Laser, Laser Radial, Club 420 and one design dinghies.
Please Note:  Sorry we don't know if your replica pirate ship will qualify.  Please hold your fire or your wenches will be asked to leave the party.  Thank you.
Yes, Grog will be Served!
It's no secret that sailors are known to have a sip, now and then, while rolling on the high seas.  So, you won't be surprised that there will be a beer truck will be on site with a selection of regular and craft beers, along with rum (Aaarrrgghhh!) provided by event sponsor Real McCoy Rum.
Reggae Reggata Schedule of Events
Please Note:  To change Eastern Daylight Time to Sailor Time add a fortnight, a farthing, four scores and three bells to your hourglass and/or sundial.  Thank you.
Friday June 19:
1800 – Beer Truck opens & appetizers
1800 – 2000 Registration and check-in
2000 – Skippers meeting
Saturday, June 20:
1030 – First warning
1800 – Dinner
2000 – Top shelf entertainment by The Fly Betty Band
Sunday, June 21:
1030 – First warning
1330 – No starts after this time
1530 – Awards
Reggae Registration Details
Eligible boats may enter by completing registration through Regatta Networks.
Late entries will be assessed a $15.00 Late Entry fee after June 5, 2015.
Lake Lanier Sailing Club Contact Information
Lake Lanier Sailing Club; 6206 Commodore Drive; Flowery Branch, GA 30542
Club Phone – 770-965-0501
Aaarrrrggghhhhh!!