Lower Pool Park is directly behind Buford Dam on Lake Lanier.  It's very well maintained by the U.S. Army Corps of Engineers.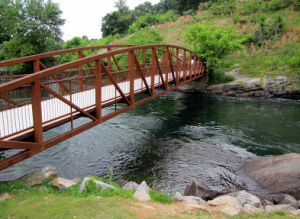 The Corps has kindly placed picnic tables, grills and restrooms at Lower Pool Park to make our stay more comfortable, even if the potato salad goes bad.
Lower Pool is a popular spot for lunch and for launching a canoe or kayak into the Chattahoochee.
Thankfully, there are benches for those of us who prefer to munch Cheetos and watch insane kayakers, instead of doing it ourselves and breaking every single bone in our body.
Other old goats prefer this park as well.  Real ones that chomp on the grassy, steep hillsides.  We're not sure if the goats are still on the job because you can't see them from the road.  For that delight, you must go to Lower Pool Park.
Please Note:  The area below Buford Dam can be dangerous, if you find yourself in the wrong place at the wrong time.  Please call 770-945-1466 for a schedule of water releases from the dam.
Hikers will enjoy the nearby Laurel Ridge Trail.  This 3.8-mile trail provides beautiful views of Lake Lanier, woodlands and the Chattahoochee River, along with wildlife and glorious wildflowers.