Bolding Mill Campground, operated by the US Army Corps of Engineers, is a precious jewel in Lake Lanier's crown.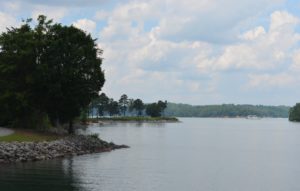 Bolding Mill is a haven of rest on the northwest side of Lake Lanier, and the portal to excitement for sailing, paddling, fishing or water skiing.
Have fun catching little fish with your little ones. Better yet, get some serious tackle and land a striped bass as big as your kids. Either way, you'll have a great day at the lake.
If bouncing around in a boat (not) catching fish on a sunny day isn't all that appealing, that's okay. Send Captain Ahab out in search of the Great White Bass while you soak in the rays on Bolding Mill's sandy beach. Heck, yeah. Bring on the tan lines.
If you tire from spending hours on the sunny beach (like that's gonna happen) take a walk and look for birds! Bird watching is at least more fun than your job. Yes, you can stay on the beach or play in the water, if you prefer.
Bolding Mill Campground has 88 gorgeous spots with electric and water hookups. You may "rough it" at nine tent-only sites lakeside. Conveniences include a laundry, playground, hot showers and new friends.
Although Bolding Mill had been open for winter camping, USACE officials announced on April 20, 2018, that the park will close over the winter.
While we are still a long ways off, Lake Lanier has decided to not keep open Bolding Mill and Sawnee Campgrounds for the Winter of 2018/19. The campgrounds will close entirely on November 30th and reopen March 1st.

This is due to multiple factors, including low turnout, high maintenance and a need to give our dump stations time to settle from the heavy use these campgrounds receive. While we appreciate the campers who came out to winter camp at Lake Lanier, we can no longer support a winter campground operation at this time.
That still gives us plenty of time to enjoy the outdoors on Lake Lanier.
Bolding Mill Day-Use park is nearby.
Bolding Mill Address & Directions
Address: 4055 Chestatee Road; Gainesville, GA 30506
Directions: Take GA Hwy 53 (Dawsonville Hwy) to Old Sardis Road. Turn onto Old Sardis Road. Then, turn left onto Chestatee Road and follow it to the campground.