Lake Lanier Association's Executive Director Joanna Cloud has resigned her position with that non-profit organization, effective in May of 2019, after nine years with LLA.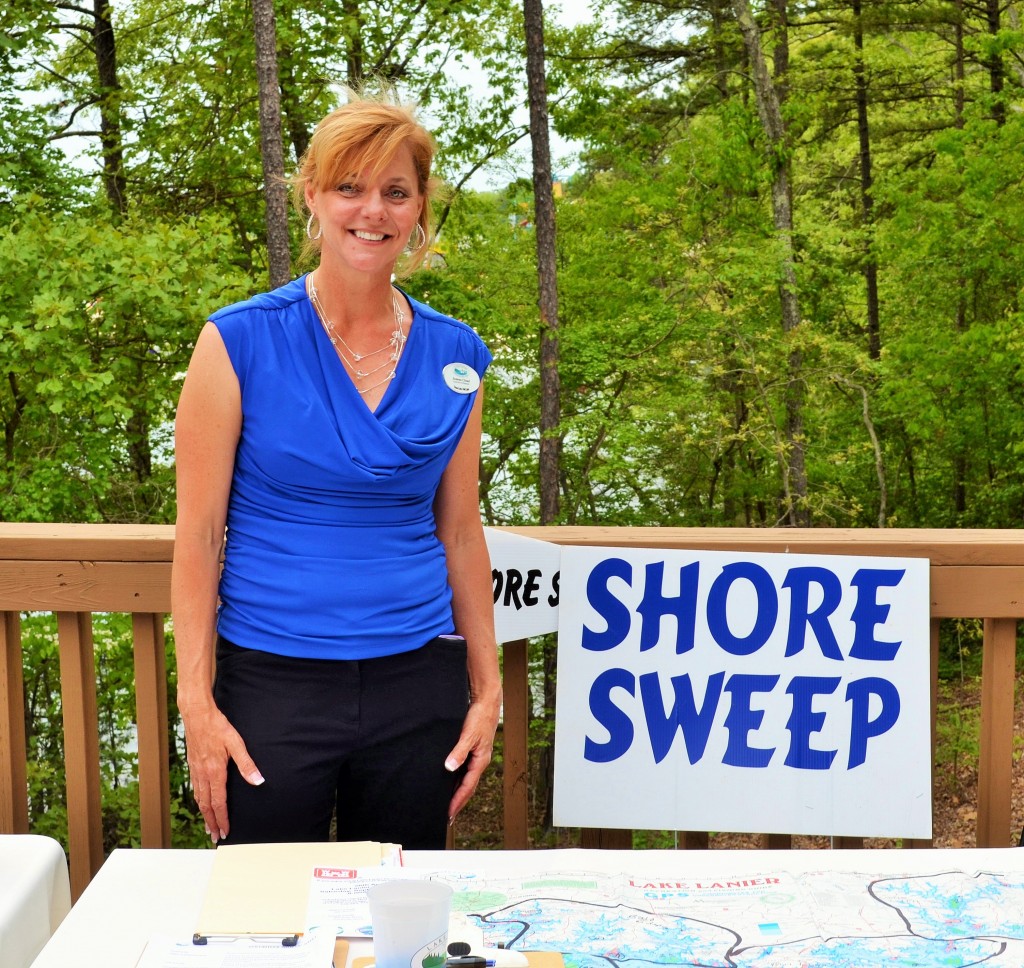 Joanna Cloud has exceeded all reasonable expectations during her tenure.
She led the way in keeping Lake Lanier "Full, Clean and Safe," LLA's slogan and a personal mission for Joanna. She helped organize the annual Shore Sweep removal of literally tons of garbage from Lanier.
Lake Lanier has solar-powered lights to help boaters navigate around unsafe sections on the lake day and night because of her labor and direction. A few prominent islands were shored up, thanks to Joanna's leadership. Rogue docks, sunken boats and abandoned houseboats were no match for Joanna's quest to rid Lanier of such dangerous and poisonous flotsam and jetsam.
All the while, Joanna was as tough, courteous and professional as anyone could expect of an executive in such a position of influence and leadership.
The press release announcing her move to the private sector (an unnamed "local marine services company") stated that LLA's "annual income has tripled with a commensurate increase in lake-based programs and services." Joanna served her board of directors, hundreds of homeowners, thousands of volunteers and millions of visitors with class and efficacy.
"I have accepted a position with a local marine services company and am excited to continue to be part of the Lake Lanier community both from a work and personal residence standpoint. The LLA is well poised for continued success because the passionate group of volunteer board members and association members are committed to keeping Lake Lanier Clean, Full and Safe.

"I greatly appreciate the support from the members of the association over the past several years. It has been an amazing journey for me and I look forward to seeing the association continue to grow and serve the community."

Joanna Cloud

Joanna and I had a very pleasant phone call on April 24, 2019. I was struck by how many times she said she was grateful for the past nine years serving the Lake Lanier community. She also said that one of her strongest memories will be how people thanked her for her dedication and efforts. She sounded surprised by the appreciation shown her for all that she and LLA have done for us, but it's no surprise to those of us who know and respect her.
Her new job takes her to Marine Specialties, Inc., with offices in Gainesville and Anderson, South Carolina. Tom Child and his able crew install docks, lifts and shoreline protection. As Joanna and I chatted, she floored me with the fact that she is a graduate of Georgia Tech and how she loves such mechanical stuff. Who knew she is a nerd? Brilliant, cheerful, skilled, educated and excited about her newest passion — on Lake Lanier.
You're free to take a shot at doing her job at LLA after she leaves. She'll even help you learn the ropes. You might even do as well as she has done. But it will be hard to find anyone who matches Joanna's dedication, understanding and smarts for the upcoming nine years and beyond.
The association is actively seeking resumes from qualified candidates for the Executive Director role. Resumes may be submitted by email to [email protected].

Questions regarding the position will be handled by John Barker, president of the board of directors, at 770.530.1613.

Lake Lanier Association Press Release Dated April 19, 2019