Lake Lanier Rises Beyond Full Winter Pool
It's not often that Lake Lanier rises beyond full winter pool.  As of Tuesday, January 8, 2019, we're more than four feet above that high water mark.
Gone are the days when we hoped and prayed for some rain to lift our spirits and the water level of Lake Lanier.  It's a "good news, bad news" situation when rain fills the lake.
Winter pool  — the arbitrary normal water level for Lanier — begins on December 1st and ends on April 30th.  During those five months, Lake Lanier is considered full pool when it hits 1070 feet above sea level.
On January 8, 2019, the level was 1074.29 feet above sea level.  That's down a tad from where the lake was at its recent highest point, 1074.69, on January 4th.  For comparison, Lanier was this high the last time on June 2, 2018 and in January of 2016.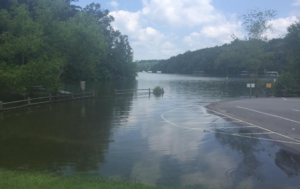 How fast can Lake Lanier rise when it pours?  Well, on Wednesday, December 26, 2018, Lanier was almost perfectly leveled off at 1070.68 feet.
Nine days later, on January 4, 2019, the lake was flooding at 1074.69 feet above sea level.
After a baffling and frustrating search for accurate, historical weather statistics for Gainesville, I finally reached Adam with the National Weather Service in Peachtree City, GA.  Due to his kind help, I confirmed that rainfall at the airport in Gainesville measured 68.89 inches, up from the normal 53.98 inches of rain in 2018.  The total rain in 2018 was almost 28% above the norm, as anyone with a boat or motorcycle could tell you.
After a couple of beautiful days, rain is back in the short-term forecast.  Such are the ups and downs of Lake Lanier — and life itself.
These are good days to be thankful that most of us don't have expensive docks on Lanier that can be damaged when the water rises.  You may keep posted on closures at US Army Corps of Engineers parks by clicking here.