Looking for a Valentine's Day Getaway for a romantic dinner, some smooching, and a bit of bubbly with your Hunny Bunny?  Lanier Islands is where you'll want to be — and you can bring the kids for their own Night Out!
Pop The Question at the Valentine's Day Getaway at Lanier Islands!
Stephanie Orr, VP of Sales & Marketing for Lanier Islands, says,  "Romance is literally IN THE AIR at Lanier Islands.  In addition to a wide variety of indoor and outdoor wedding venues from which to choose, the natural beauty of our resort and the romantic feel of our Lodge – from the roaring fire in our lobby's fireplace to the magnificence of our newly remodeled guest rooms – serves as a draw to couples seeking everything from a romantic getaway to the ideal spot to say 'I do!'

This year, we're taking a little bit of that same magic that we infuse into every wedding on our shores and putting it into the one day dedicated to celebrating love each year – Valentine's Day.  Best of all, we're not limiting our couples to just one night!  Since Valentine's Day falls on a Wednesday this year, couples can opt to celebrate with us ON Valentine's Day or on the Friday or Saturday night after the holiday."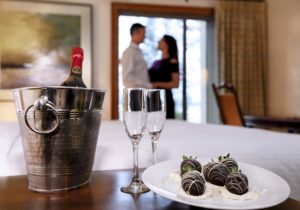 What's included?  Well, this for starters … Following check-in at Legacy Lodge, the experience begins with chocolate-dipped, Grand Marnier injected strawberries and chilled champagne for two served in the couple's deluxe hotel room.
Presuming you still want dinner, couples can make their way to Lanier Islands' fine dining at Sidney's Restaurant where they will be treated to a four-course candlelight dinner for two from a specially crafted menu.  Linger over an appetizer, salad and entrée, a glass of wine with shareable dessert and something sweet to take back to the room.
In the morning, couples are invited back to Sidney's Restaurant to enjoy views of the lake (and one another) paired with a full breakfast buffet.  The Valentine's Day Getaway package is available on February 14, 16 and 17, 2018.
Oh, yeah.  The kids.  Almost forgot, sorry.
Lanier Islands' Legacy Kids Night Out is the ideal solution for parents who wish to enjoy an overnight stay at Lanier Islands, but can't find a sitter.  While mom and dad enjoy a lovely night out at one end of the Lodge, the kids can enjoy a Valentine's Day Party of their very own that includes games, arts & crafts, kid-friendly movie and pizza party – all under the watchful eye of a Legacy Kids Camp Counselor.
As an enhancement to the Valentine's Sweetheart Premium Package and Couples' Getaway, Valentine's Kids Night Out is just $50 per child and $25 each for additional siblings.

Legacy Kids Night Out is available February 16 and 17 from 6:00 PM to 10:00 PM in the Legacy Kids Camp Room.  Reservations are required and can be made by calling 770-945-8787 after the overnight stay has been booked.