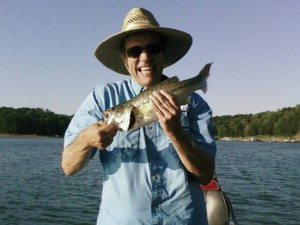 It's hard to know what to get your dad for Father's Day — especially when he says he wants "all the cold beer in the world." Nice try, pop. Here's what he really wants: a fishing trip with a pro on Lake Lanier with a guide like "BIG FISH ON" Lake Lanier Fishing Guides & Charters.
My best friend is a CPA who makes enough money to cover his lawn with $20 bills. For his birthday one year, I hired a fishing guide to take us to the hot spots on Lanier. Best time ever!
Your dad doesn't need a necktie. (Seriously. Who does?) Spend quality time with him fishing — and catching! — on Lake Lanier with Ken West or Mike Maddalena of BIG FISH ON!
Lake Lanier is 38,000 acres of fresh water filled with hungry fish. All it takes is a fishing pole, some bait and you can catch fish all day long. As long as you have the right gear, the perfect bait and you know where the hungry fish are waiting.
That, friends, is why you need BIG FISH ON Lake Lanier Fishing Guides & Charters. Just bring a smile and hop on board. They'll take care of everything else.
BIG FISH ON will take you on a fun family outing or a corporate charter trip. Call them and they'll schedule a time to take you catching on Lake Lanier.
"BIG FISH ON" Lake Lanier Fishing Guides & Charters is a full-time, family oriented, licensed and
professional fishing guide service, with over 50 years of combined Lake Lanier fishing experience. To support family fishing, they do not charge for kids under the age of 16, when accompanied by a parent or grandparent.
Contact BIG FISH ON
Captain Ken West Phone: 404-561-2564
Captain Mike Maddalena Phone: 770-598-5195
Address: 2040 Foster Drive, Cumming, GA 30040
Email: [email protected]
Website: BIG FISH ON!