Super sleuth Joanna Cloud — known to most of us as the mild-mannered executive director of the Lake Lanier Association — has another mystery or two she is trying to solve.  It's the case of the Abandoned Boat Docks!
Two renegade boat docks have been beached in separate locations on Lake Lanier.  Joanna, also known as "Sherlock," needs to know who owned these "boat house style" docks in order to properly dispose of them or return them to their rightful owners.
The first was discovered abandoned in the Two Mile Creek area.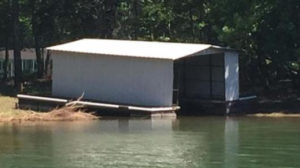 Inspector Joanna says you may remain anonymous if you provide any information on these abandoned boat docks.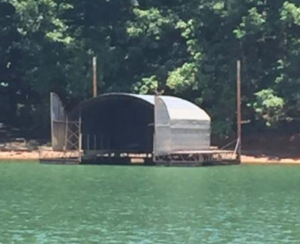 Superman seeks Truth, Justice and the American Way!  Super Joanna merely wants to keep Lake Lanier Full, Clean and Safe!
If you have any information about where these docks may have come from, please contact the Lake Lanier Association at [email protected] or by phone at 770.503.7757.
Our very own 007, Joanna Cloud, would appreciate your help.  If you break the case, she might even rename Lake Lanier in your honor for an entire day.  Honest.