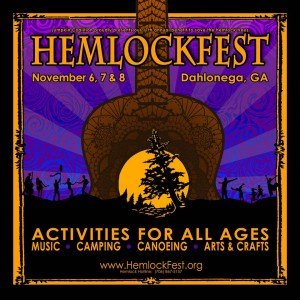 Tree huggers, unite at HemlockFest!  It's like Woodstock with food and water, without the mud and traffic, for a good cause.
Presented primarily by the Lumpkin Coalition, HemlockFest is the most exhilarating way to preserve hemlocks for future tree lovers.
"North Georgia's hemlocks are in danger of almost total extinction due to a rapidly spreading infestation of the hemlock woolly adelgid (HWA), an invasive insect from Asia with no local natural predator," according to Save Georgia's Hemlocks.
HemlockFest raises funds and public awareness to fight the plight of Eastern and Carolina hemlocks.
When is the last time you experienced knife throwing (except in Atlanta) or went canoeing on Lake Merlin?  Sprinkle in arts & crafts demonstrations, good food, primitive camping (ten minutes from Walmart) and live mountain music for an amazing time.
HemlockFest is the best party you can find in the hemlock-dwindling woods of North Georgia.
This Leave No Trace event will be held Friday-Sunday, November 6-8, 2015, near Dahlonega, GA, in Murrayville.  Tickets range from $15-55/person.
Please Note:  Sorry.  Men named "Murray" do not get in for free.  Thank you.
Limited first-aid, security, camping, showers and firewood will be available onsite.