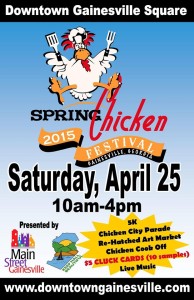 You're never too old to enjoy spring … especially at Gainesville's annual Spring Chicken Festival!
This year's Spring Chicken Festival is going to be the best yet.
There's no way that anything could rain on this parade of food, fun, people and artwork on the Square in Gainesville on Saturday, April 25th.
It's hard to believe, but we are told that people will be there to give you their incredibly beautiful and precious artwork and crafts in exchange for mere money!  Be sure to get there early before the artists come to their senses!
There will be cook-offs in two classes: Professional and Backyard Bar-B-Q. The Grand Champion can win up to $700.
The 2015 Spring Chicken Festival will include a 5k race, the Chicken City Parade, live entertainment and plenty of fun stuff for the kids.
Don't miss the 2015 Spring Chicken Festival!