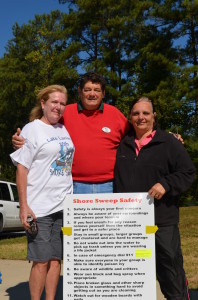 The Lake Lanier Association is hosting the 26th Annual Lake Lanier Shore Sweep on Saturday, September 27, 2014, to clean up trash on the shoreline of Georgia's best lake.
Ten locations have agreed to pitch in as volunteers pitch trash out of Lake Lanier.  We're thankful for :
Aqualand Marina
Bald Ridge Marina
Gainesville Marina
Holiday Marina
Port Royale Marina
Sunrise Cove Marina
Lake Lanier Islands
Clarks Bridge Park
Gwinnett Park and
War Hill Park.
Lake Lanier Shore Sweep takes just a few hours — from 8 AM until 11 AM — to remove literally tons of garbage from the lake.
Volunteers should report to a participating location in order to pick up trash bags.  They will then be assigned a spot along the shore to pull trash from the lake.
You will not be attacked by sharks or end up covered in mud.  Probably.  Wear clothes that won't be ruined if they get dirty and something a bit more sturdy than flip-flops, please.  A pair of work gloves might prevent a blister or two.
You'll earn a free Shore Sweep T-shirt if you turn in at least one bag of trash.  That's a good deal.  Where else can you get a cool T-shirt for meeting new people and doing a good deed with them?
You'll never see Lake Lanier the same … and you'll be less likely to leave garbage behind on your next visit if you help out with Shore Sweep.
Sign Up for Lake Lanier Shore Sweep
Advance registration for the event is NOT required.  It does, however, help our friends who are organizing the event plan where to send volunteers.
You can contact Shore Sweep by sending an e-mail to: [email protected].