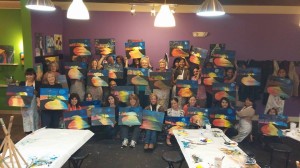 It's way too cold to frolic on Lake Lanier.  It's never too cold, however, to frolic at Masterpiece Mixers Paint & Party Studio.
Think you're not artistic enough to paint your very own masterpiece?  Ha!  You can!
Click Here for "When I Paint My Masterpiece" by The Band
The artists at Masterpiece Mixers will supply the canvas, paint and the brushes.  All you have to do is move your hands and have fun.  Almost.  It helps if you smile too.
Delightful professional teachers will guide you through the step-by-step process of creating your own piece of art that you actually get to take home with you!
Please Note:  Masterpiece Mixers Paint & Party Studio cannot guarantee that family, roommates or assorted cretins at your house will allow you to hang your art on actual walls.  Remember, Monet and Manet were also unappreciated.
MMPPS instructors will help you get your creative juices flowing, but you can always bring your own, if you catch my drift.
You're welcome to bring a friend or two.  No worries, if you don't.  MMSSP always has a few extras they'll let you can borrow for a little while.
Attention Guys:  Forget Match.com.  If you're looking for an artsy lady, sign up for a Masterpiece Mixer.  MMPPS, however, reserves the right to keep their share of the funds when you are auctioned to the highest bidder.  Thank you.
These events are perfect for a "Girl's Night Out" or a unique date night.  You'll never know if you're truly compatible with you-know-who until you unexpectedly plop some paint on his/her nose.
Parties fill up fast, so don't dawdle.  Warm weather is only a month or two away.  (If we survive another arctic blast.)
Can't get enough?  Here's more good news!  MMPPS is hiring artistic and super fun instructors for our Georgia studios.  To apply e-mail your information and three samples of your work to: [email protected]