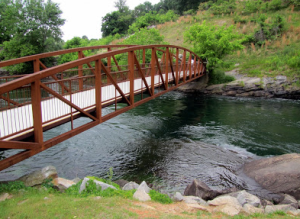 Lower Overlook Park
Lower Overlook Park is on the Chattahoochee River, overlooking the lower part of Buford Dam.
Lake Lanier was constructed in the early 1950s as a multi-purpose lake that provides flood protection, power production, water supply, navigation, recreation, and fish and wildlife management.
Lower Overlook Park, one of almost 50 U.S. Army Corps of Engineers facilities on Lake Lanier, offers all that … and picnic tables, grills and restrooms.  That's nice because you are more likely to need a bathroom than your own power plant.
Laurel Ridge Trail passes through Lower Overlook Park, providing another reason to visit when you have the opportunity.
It's a favorite hike for many walkers and families.  The 3.8-mile trail provides unusual views of Lake Lanier and woodlands, in addition to Chattahoochee River's wildlife and glorious wildflowers.
Please Note:  The area below Buford Dam can be dangerous, if you find yourself in the wrong place at the wrong time.  Please call 770-945-1466 for a schedule of water releases from the dam.
Lower Overlook Park
Address:  1060 Buford Dam Road; Buford, GA  30515