The Chattahoochee River flows from the mountains of North Georgia into Lake Lanier right where Clarks Bridge Park is located.  This section of the "Hooch" is so perfectly protected from natural elements that it is one of the best spots on the planet for racing sculls and canoes.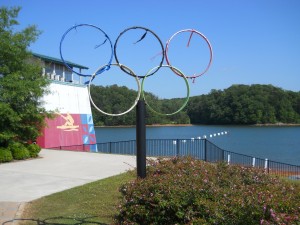 The rowing events broadcast during the 1996 Olympic Games took place at Clarks Bridge Park, where Lake Lanier Olympic Park is located.
The iconic timing tower used during the Games is better than ever because of the many improvements made in the past two decades.
Athletes from all around the world still come to train and compete here, along with our local stars with Lake Lanier Rowing Club and the Lake Lanier Canoe and Kayak Club.
The Lake Lanier Olympic Park at Clarks Bridge Park rents its facilities for concerts and other outdoor events, in addition to seasonal regattas.
You're invited to play your own games here too!
Clarks Bridge Park has multiple boat ramps and a dock on one side of the road providing fishing access to the Chattahoochee River — where lunkers live.
A popular beach with picnic tables, grills and forested lawns is on the other side of the road.  A pedestrian tunnel beneath Clarks Bridge Road provides quick access to both sides without dodging traffic.  Restrooms are located at both locations.
Locals often catch fish from the rocky shore and by the bridge, especially overnight.  It's so peaceful that you won't care if you don't catch anything.
The glory of the 1996 Olympics endures at Clarks Bridge Park.