Shady Grove Campground is where the livin' is easy on Lanier. This park has 110 campsites – including tent campsites, RV campsites and group campsites — spread out over almost 110 acres.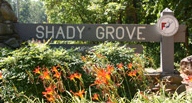 If the camping, beach and swim area, boat ramp with a courtesy dock, paths and children's playground don't refresh you, take a cold shower and try again.
Once you set up camp, you won't want to leave. Sorry, there are limits to how long you can stay.
Length of stay is no longer than 14 days during any 30 consecutive day period. Those wishing to stay longer than 15 days in a 30 day period, due to extenuating circumstances, must make an official request to the Natural Resource Division Manager in writing 3 days prior to end of the 15 day period of stay. All requests will be reviewed and a decision given to guests within 24 hours of receipt.
Parks & Recreation Director Jim Pryor says, "Shady Grove Campground is a distinctive highlight of Forsyth County Parks & Recreation offerings. The campground provides great natural amenities, including boat and swim access to Lake Lanier that make for an ideal overnight stay or a weeklong staycation."
Shady Grove is the only park on Lake Lanier with its own famous song.
Shady Grove Campground Amenities
Shady Grove Information
Address: 7800 Allyn Lane Memorial Way; Cumming, GA
Directions: This recreation area is roughly half-way between the towns of Cumming and Oakwood. It's easy to find. About a mile east of the intersection of Browns Bridge Road (Route 369) and GA Route 306, you will find Shady Grove Road. Go south on Shady Grove. Follow the signs to the campground.
Reservations made for Friday night require a two-night minimum (Friday and Saturday). Seniors and military are eligible for a 10% discount.