As of March 2019, Blue Ridge Campgrounds at Lanier Islands Resort — formerly the perfect spot for rustic lakeside camping, with a nearby water park, marvelous spa and a healthy dose of fine dining — will not reopen for the 2019 camping season.  When it reopens, we'll let you know.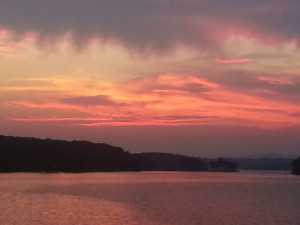 At some point in the future, Blue Ridge Campgrounds at Lanier Islands will reopen — better than ever.
Not looking for a campsite in the wild wilderness?
At Blue Ridge Campgrounds, you can "be one with nature" and rough it outdoors.
When that craziness wears off, knock (or kick) a ball around one of the region's premier golf courses.
When your zeal for exercise wears off, head for the day spa, before your exciting evening at Lanier Islands.
Then, rest well in your teensy tent and gather strength for tomorrow.  Or, live large in your RV that has more leather than a herd of buffalo.
Lavish yourself in the lap of serenity and natural beauty in the glorious foothills of the North Georgia mountains at Blue Ridge Campgrounds.
Boat ramps are provided at Blue Ridge Campgrounds.  If you forget to bring your family's ship, don't worry.  You can buy a new one right around the corner!  Such a deal!
The convenient camp store at Blue Ridge rents boats, and sells just about anything you need while camping next door to LanierWorld Waterpark.
Again, Blue Ridge Campgrounds is temporarily closed.
Blue Ridge Address & Directions
Address:  7650 Lanier Islands Parkway; Buford, GA  30518