Hippies?  In Georgia?  Who let them in?  Yup.  According to the National Forest Service, "the Rainbow Family of Living Light has chosen to hold their 2018 Annual Rainbow Gathering on the Chattahoochee National Forest. The unauthorized gathering site is located near Bull Mountain off of Forest Service Road 28-1 near the towns of Nimblewill and Dahlonega."
Because there is no "town of Nimblewill" that means it's near Dahlonega.  In anticipation of the Chaos in the Forest, these roads have been shut down:
CLOSED TO ALL TRAFFIC:
• FS77 (Winding Stair Gap Rd.) from FS28A to FS42
• FS77A
• FS877
• FS141
• FS141A
• FS142

Certain other FS roads may be open to all traffic, but have no, or limited parking.
Their purpose?  To pray for world peace, they say.
To try to learn more about this gathering, you can go to WelcomeHome.org but don't get your hopes up.  It's mostly happy hippie quotes and drivel.  This was interesting, however:
It is longstanding Rainbow Family consensus that nobody has ever, or ever will represent the Rainbow Family. This is an unofficial collection of information on the Rainbow Family and the Rainbow Gatherings.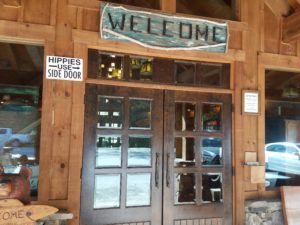 Full Disclosure:  I was a hippie.  In the 70s, I moved to California to find myself.  When I discovered that I was not there, I moved to Alaska and built a log cabin in the woods.  Yes, I smoked pot, worked at a radical radio station and wore a bandanna.  To quote The Bard Mungo Jerry, "We're not bad people.  We're not dirty, we're not mean.  We love everybody but we do as we please."  Thankfully, my sins were forgiven and I was given new life in Jesus Christ in 1977.
The Forest Service issued this comment:
The unauthorized gathering could draw anywhere from 5,000 — 10,000 people. Officials expect the attendance to peak the week of July 4.  Any event of this size can have significant impacts on local communities, natural resources, traffic, and visitors.
I know.  You're wondering why The Law just can't tell the hippies to return from whence they came, right?
Congress shall make no law respecting an establishment of religion, or prohibiting the free exercise thereof; or abridging the freedom of speech, or of the press; or the right of the people peaceably to assemble, and to petition the Government for a redress of grievances.
The Rainbow Family hippie gatherings are not authorized by the US Forest Service, nor any other agency.  Every year … it just happens … somewhere in some forest.  This year they chose a forest near Bull Mountain to exercise their right to peaceably assemble.
The reality of thousands of human beings living in a forest for a week or two?  They may pray for peace.  I am praying there won't be any forest fires or tons of waste left when they depart.  And, God bless the Law Enforcement Officers who will keep the peace, if there isn't any.
We will know how it went when the event fizzles after the 4th of July.  Until then?  Go be a hippie or stay far away.  Your choice.
US Forest Service FAQs on the National Rainbow Family of Living Light Gathering