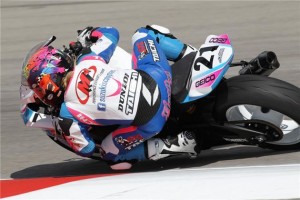 Don't think girls can ride motorcycles?  Come to Road Atlanta over the weekend of April 17-19, 2015 and watch Elena Myers race like a girl in the big league MotoAmerica road races.
It didn't go over too well at the time, but when I met Darrell Waltrip I said, "It's an honor to meet America's third-fastest driver!"  My two daughters — one in a Miata, the other in a Lexus — used to drive so fast Darrell would have been insane to ride shotgun with either of them.
Elena Myers is even faster than my daughters.  Honest.
For the first time since 2012, professional motorcycle racing returns to Road Atlanta with the new MotoAmerica.  Professional motorcycle racing around one of the country's best road courses: Road Atlanta.
Local girl Elena Myers will be competing in Superbike, which is the top class, at the MotoAmerica event.  Elena is the only female to ever have won a professional motorcycle road race in the United States.  She's just a pink blur when she passes guys all around the racetrack.
Women are welcome to bring men to Road Atlanta for the races or to just gloat and act all proud about the ways girls run in professional motorcycle racing.
Sorry, hankies will not be provided for weeping spectators.
Come watch Elena race like a girl — and maybe win again — at Road Atlanta.
Please Note:  A gracious gentleman in Florida sent this respectful comment regarding another award-winning racer.  "Good evening, Not sure if you were aware, but Tammy Jo Kirk won an AMA Class C race in Knoxville back in the eighties."
Bill Hyde